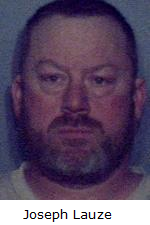 MILTON, NH – December 17, 2013 –  – A Milton man was arrested on Monday after wielding an ax at a team of repossessors that had come to recover his vehicle and continued his drama after arrest by kicking in the door of a police cruiser while in custody.
Joseph Lauze, was charged with felony Criminal Threatening with a deadly weapon, felony Criminal Mischief and felony Reckless Conduct.
Lauze was also charged with another count of felony criminal mischief for kicking the doors of a Milton Police vehicle while in custody causing structural damage in an amount over $1,500.
According to a police, Milton Police responded to a 911 call around 9:30 p.m. to an incident at 7 Depot Pond Road. It was reported to police there was a man on the property attacking associates of RPG Towing & Recovery with an ax.
Reports to police were that the suspect was swinging an ax at the repossession team and also damaging their vehicle with the ax.
Upon arrival the victims reported to Police that the suspect attempted to strike them with an ax and caused extensive damage to their vehicle. One victim claimed he was struck with the ax but uninjured.
The repo team told police they retreated to their vehicle, according to the report, but Lauze continued his attack, putting the ax into the hood of the vehicle and the windshield.
Lauze was held on $7,500 cash bail at the Strafford County Jail after an arraignment at Dover District Court today. If he posts the $7,500 cash bail he will be monitored by Strafford County Community Corrections.