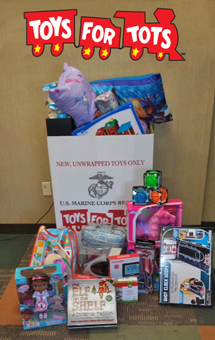 FOR IMMEDIATE RELEASE
Wyoming, MN – December 10, 2013 – CU Recovery steps to the front of the line in their commitment to their local community.  The company culture supports involvement in tangible ways through financial support and volunteerism.  For the past eight years, company owners Kelly Becker and Terry Brelje have requested that staff "forgo office Christmas gifts in  favor of working as a team to benefit the families most in need within our community".  This year, CU Recovery / The Loan Service Center, in addition to raising funds for local food banks, has been designated as an official drop off location for the Toys for Tots, Twin Cities organization.
The company's commitment is in its understanding of what community means as well as the importance of doing their share.  And the culture does not extend helping hands just once a year. Owner Kelly Becker founded the Good Guy Open, a yearly golf tournament, to "Raise money for individuals/families battling cancer and to recognize the Good Guys in our lives".  Additionally, each month, a committee of dedicated employees sponsors a fund drive among the company employees to benefit causes such as MS, Cystic Fibrosis, Relay for Life, National Eating Disorder Assn., ALS (Lou Gherig's disease) and more.  So far in 2013, the employees have raised $14,000.00, plus a mountain of toys.
Wendy Elieff, Vice President of Sales and Service, observes that CU Recovery/The Loan Service Center and its employees "enjoy helping others and are cheerful givers to fellow employees in need, and touching lives in the communities where they live and work".
##
 About CU Recovery & the Loan Service Center
CU Recovery, Inc. is a full service collection agency, working exclusively for credit unions, dedicated to maximizing recoveries on charged off loans. The Loan Service Center, Inc. provides staffing solutions for credit union collection departments to minimize losses on their delinquent active loan portfolio. The CU Recovery Collection Academy is a resource for continuing education to assure the success of Credit Union collection departments in meeting their member service and delinquency reduction goals. For more information: www.curecovery.com