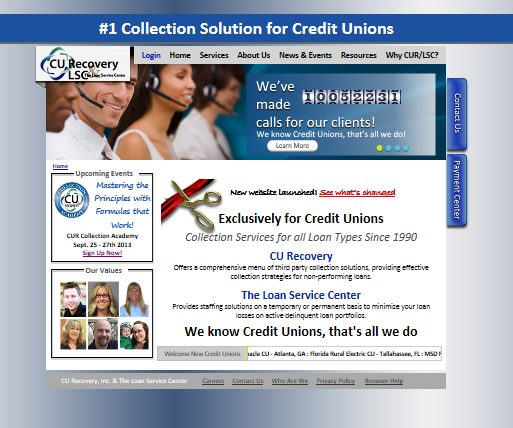 New Technology. Fresh Look. Essential Information
FOR IMMEDIATE RELEASE
September 17, 2013 Wyoming, MN.  CU Recovery, Inc. has launched its new website: www.curecovery.com. The new website offers quick and easy access to essential information and is part of the organization's ongoing efforts to enhance the quality and availability of information to credit unions. The new site showcases
a wide range of services available from CU Recovery and The Loan Service Center. A fresh new look is both easier to navigate, and focuses on making the important information more accessible.
The new design reflects the company's mission to provide credit unions with an easy to use file input process as well as providing educational resources to their collection departments.  Created with the user experience firmly in mind, the website has been designed using the latest technology making it compatible with a wide range of browsers, including optimization for viewing on mobile devices such as smartphones and digital tablets.  CU Recovery & The Loan Service Center believe that with expanded resources and information the credit union will achieve greater success through their collection efforts.
The site's new look is sleek and stylish, while full of new features, new imagery and refreshed copy to make it more user-friendly. Wendy Elieff, CU Recovery's Vice President of Sales & Service notes that this is the first time CU Recovery has been able to offer its clients the most up to date information in a way that is truly user friendly. Says Elieff, "We've found that the most effective websites are those that provide timely information, frequent updates and a simple, efficient user experience. We wanted our new website to reflect what we are: the best services provider to Credit Union Collection Departments. "
Taking the web presence to the next level, the new site allows users to access more detailed, up to date information on all aspects related to the collection process.  Members will find a new Mobile Payment App in addition to CU Recovery's 'pay by phone' & online payment options. Credit Unions will find that it is easier to navigate, manage and input file referrals with an expanded Services area for comprehensive information and details at a glance, and Online Chat for quick reply to questions.
About CU Recovery & the Loan Service Center
CU Recovery is the #1 collection solution for credit unions.  Serving the industry since 1990, CU Recovery, Inc. is a full service collection agency dedicated to maximizing recoveries on charged off loans. The Loan Service Center, Inc. provides staffing solutions for credit union collection departments to minimize losses on their active delinquent loan portfolio. The combination creates a comprehensive suite of services exclusively for credit unions.
##
For Further Information Contact:
Wendy Elieff, Vice President Sales & Service
866.419.7861
wendy@curecovery.com