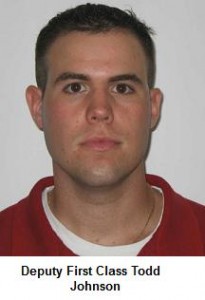 Baltimore, MD, April 25, 2013 – A 7 year veteran of the Harford County Sheriff's deputy was arrested Thursday for allegedly taking payments from a Baltimore repossession company for personal information about vehicle owners, the Sheriff's Office reported Thursday afternoon.
Deputy First Class Todd Edward Johnson, 30, was suspended without pay after being taken into custody and has been charged with bribery, running a theft scheme, willfully distributing a valid National Crime Information Center code and malfeasance in office, according to sheriff's office press release.
The arrest was the result of a two-month investigation that found Johnson was allegedly providing privileged information to the Baltimore-based Final Notice Recovery of Baltimore.
National Crime Information Center, or NCIC, reports are used by law enforcement agencies to determine if people arrested in one jurisdiction are wanted in jurisdictions elsewhere in the country, and are not permitted to be released to the public.
A tip that a deputy was involved in criminal activity prompted the investigation into Johnson's alleged activities, according to the release.
It is alleged that for the past two years, Johnson used his official mobile data computer to run searches on vehicle license plate numbers provided by the repo company. In exchange, Johnson allegedly received payments for the information, according to the police release.
Police did not know yet if anyone involved with Final Notice Recovery would be charged.
Johnson was taken to the Harford County Detention Center, where, after a hearing before a Harford County District Court Commissioner, he was released on his own recognizance.