"The Largest Not-For-Profit National Trade Association Of Repossession Specialists Since 1936"
Golden Nugget Hotel & Casino Las Vegas, NV – Sept 21st -23rd, 2016
All 95 attendees at the Allied Finance Adjusters Mid Year meeting hit the JACKPOT!
Along with the camaraderie and networking, which was amazing, there was top notch education.
Machelle Morris gave an excellent presentation about the CFPB including possible changes regarding title loans and their potential impact. 
She also provided information about company policies and provided customized forms. These are available to members only via the Allied website.
Mike Farrell of Detroit Wreckers gave a presentation on quick fixes in the field.  Education at its best and well received.
Mike Peplinski of Harding Brooks Insurance spoke about upcoming changes in the insurance industry.  This presentation dispelled many myths; he educated everyone on the changes and events happening in our industry.
Simon Birch of AW Direct, spoke of new products and had many open discussions about the use and maintenance of current products used by your fellow repossessors.
Allied welcomed, Lance Rafael, an attorney, who has a history of representing consumers who have chosen to proceed with litigation against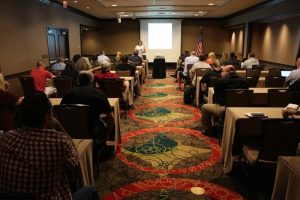 repossession agencies. Mr. Rafael provided a case history and insightful reports enlightening us all as to what could happen. Lance spoke with honesty and educated our members on how to head off lawsuits.  Many attendees were shocked by what really happens out there in our industry; put simply, he taught the how and why consumers sue.
Our President, James Osselburn, lead a great board meeting. With Past President George Badeen at his side, Mr. Osselburn kept everything moving forward, positive and very upbeat.  Going forward, James and the convention committee are currently making plans for the 2017 and 2018 conventions!  Check out the 2016 AFA Mid Year video at http://www.alliedfinanceadjusters.com/Videos.aspx. Your Board of Directors is looking forward to a spectacular 2017.
Being a member of Allied Finance Adjusters is prestigious. The dedication, creativity, and relevance with which we provide quality education makes your membership invaluable! To learn more about becoming a member visit our website www.AFArepo.com and you too can excel in such a challenging industry.
###