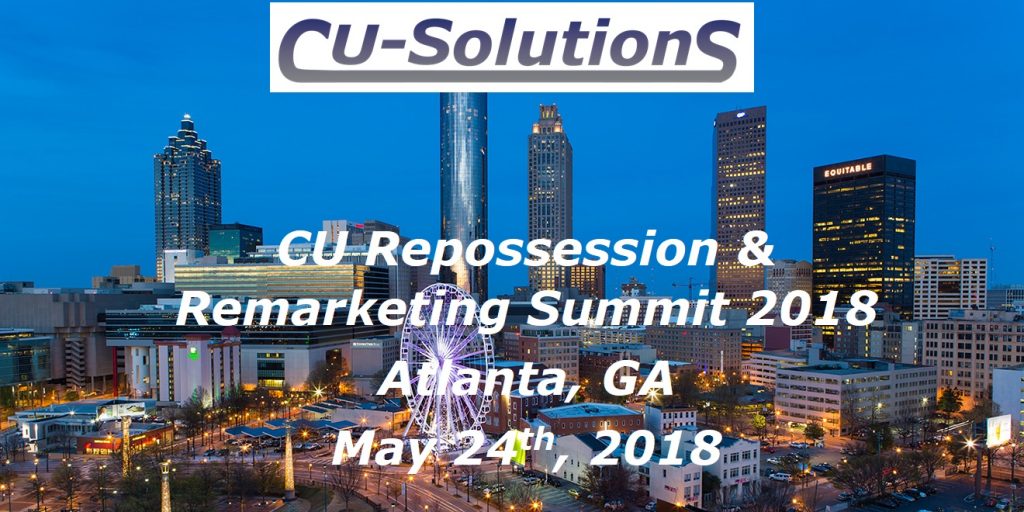 Atlanta, GA
May 23rd and 24th, 2018
FOR IMMEDIATE RELEASE
Cu-Solutions will be holding it's CU Repossession & Remarketing Summit 2018 on May 24th, 2018, from 9;00am-5:00pm in Atlanta, GA at the new Renaissance Atlanta Airport Gateway Hotel.
A thorough and well-rounded presentation of courses will be presented by a list of expert speakers that promises to provide unique perspectives and new knowledge that translate and fit well into every collectors skill set.
Legendary speaker, Ron Brown, arguably the most knowledgably speaker in the industry on, collections, skip tracing, compliance, the CFPB and repossessions, will be the keynote speaker. Mike Peplinski, of Harding Brooks Insurance Agency, the largest agency servicing the repossession industry, and an authority on lender insurance requirements, will explain in detail, the coverages and liability limits you should require from your vendors.
A panel of industry experts, Bob Stankovitch, President of The Peak Service Corp., Chris Dunleavy, President of TCAR, and Gregg Fodor, of Manheim, will explain in detail, how to improve your return on the resale of your collateral. Lunch will be served and Harding Brooks is sponsoring a cocktail reception the night before the seminar.
For more info visit http://www.cuedusummit.com