Port Saint Lucie, FL – 17 May 2017 – Port St. Lucie Police arrested Randy Lewis Horning for burglary of an occupied dwelling and petit theft after he stole a wheelbarrow from the side of a house while he was performing his duties as a "Repo-man".
On May 17, 2017 at around 4:50 am, Port St. Lucie Police went to the 5300 block of NW Milner Drive for reports of a disturbance.  Police spoke to Horning who told police that as he was repossessing a truck.  After the hook up of the vehicle he was approached by the owner who threatened him with a machete, demanding he not take the truck.  Horning feared for his safety and called police.
While investigating the disturbance call, police were approached by a citizen who reported that someone had stolen his pressure washer from the back of his truck which was parked in the 6700 block of NW Monaco Court.  As the owner of the pressure washer was talking to police he noticed that his pressure washer was on the back of the Horning's Repo truck. 
Police interviewed Horning who admitted to taking the pressure washer while he was looking for the vehicle for his repossess job.  During the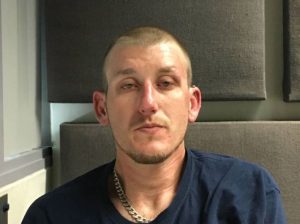 interview and a search of Horning's repo truck police learned that Horning took a wheelbarrow from the side of a house located in the 5300 block of NW Nekoma Street.  Police also found a set of truck taillights that Horning took off a truck that was parked in the 2400 block of SE Sapelo Avenue.
Horning was arrested for the theft of the wheelbarrow.  Police are currently attempting to contact the owner of the taillights.  The owner of the pressure washer declined to press charges on Horning due to the fact that he got his property back.  Horning also declined prosecution on the homeowner who threatened him while he attempted to repossess the truck. 
Horning was taken to the St. Lucie County Jail for booking.
Horning confessed to police and said "He was going through some tough times and was trying to get extra money for his family."
Source: Your News