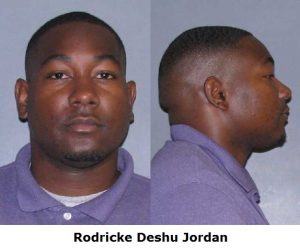 Shreveport, LA – 20 September 2016 – A Shreveport man is now behind bars after he robbed a repo agent over the weekend.
Caddo Parish Sheriff Deputies arrested 26-year-old Rodricke Deshu Jordan of Shreveport after an investigation into the armed robbery of a repo agent on Sunday, September 18, 2016. The robbery occurred just before 8:00 p.m. near the Weights and Standards scales. The victim said he had just repossessed a red Chrysler 300 from Jordan when Jordan and two others – all driving separate vehicles – blocked him in on the interstate and caused him to stop his vehicle.
The offenders got of their vehicles with one displaying a handgun in his waistband. Jordan took the gun and used it to bang on the victim's window, while yelling at the victim and demanding money. The victim said when the magazine fell out of the gun, he got out of the vehicle and fled.
Jordan is accused of taking a bag from the Chrysler along with a key before leaving the scene.
Caddo Detective Terry Richardson obtained a warrant for Jordan's arrest. After interviewing him today at the Criminal Investigations Division, Jordan was arrested for Armed Robbery/Use of Firearm and Aggravated Obstruction of a Highway of Commerce.
Source: News Radio 710 KEEL