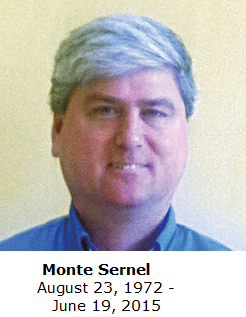 Germantown, TN – June 19, 2015 – Montgomery (Monte) Bates Sernel, 42, of Germantown, TN passed away early Friday afternoon surrounded by family and friends as a result of complications from a brain injury. Monte was the General Manager of United Auto Recovery of Memphis, TN.
Monte, born August 23, 1972, was the second son of Lucy Bond and the late James Sernel. A graduate of MUS in 1990, Monte attended Millsaps College where he played on the soccer team. He then received his J.D. at the University of Tennessee Law School. After Law School, he practiced law for several years before working with the family business, UADR, Inc.
Monte leaves behind his high school sweetheart, Kerry Wilson Sernel, and their 3 children: Ragan, Kenner, and Ciara. He also leaves behind his mother, Lucy, brother, Toby, step-father, Bill, father-in-law, Bob, and mother-in-law, Nelda. Monte was a family man who influenced the lives of his two sons daily through their common love of basketball. Whether attending son's games, going to Grizzlies games, or shooting hoops in the backyard, Monte cherished these times and made them a priority.
Monte always enjoyed building bonfires in the backyard with his kids and looking on in amazement as Ciara cartwheeled around the house. Monte's daily strength, his "never met a stranger" personality, his passion for his work and the people he worked with, and his honesty and acceptance of all set him apart from others. The smiles and memories he created and the love he shared with his family will live forever.
Visitation will be 10:30 a.m.-12 Noon, Wednesday, June 24 at Our Lady of Perpetual Help Catholic Church in Germantown. A Mass of the Resurrection will be at Noon with a reception to follow at the church. Private burial will be at Elmwood Cemetery. –
See more at: http://www.legacy.com/obituaries/commercialappeal/obituary.aspx?n=montgomery-bates-sernel&pid=175124628#sthash.btkB9UTH.dpuf