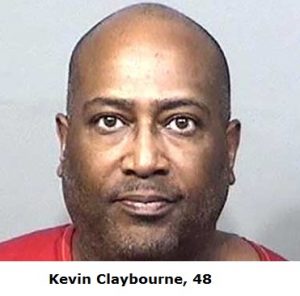 Melbourne, FL – 31 December 2016 – Melbourne Police have arrested a 48-year-old Kevin Claybourne early Saturday morning after the suspect reportedly chased down and shot at a repo man who was lawfully repossessing the suspect's truck.
Authorities say Melbourne Police responded to a report of the occupants in a vehicle shooting at another vehicle at around 4:50 a.m. Saturday morning near the Caribbean Isle Apartments on the 2700 block of Cozumel Dr. in Melbourne.
According to Melbourne Police spokesperson, the suspect vehicle reportedly then chased the victim from the apartments to the area of 1400 block of S. Babcock St.
During the chase, the suspect fired multiple shots at the victim who was driving a silver Dodge Ram truck. Both vehicles were stopped by police and at least one bullet hole was discovered in the victim's truck.
After further investigation, it was revealed the victim had just conducted a lawful repossession of the suspect's truck and the suspect was trying to prevent him from taking it.
After interviews with the victims representing the Auto Dealer, the suspect and the individual of the targeted vehicle, enough probable cause was achieved for the arrest of the driver who was also the identified shooter.
A 9mm handgun was also recovered from the suspect's vehicle.
The suspect has been charged with Aggravated Assault w/ a Firearm, Shooting into an Occupied Vehicle and Fleeing/Eluding police.
Source: Space Coast Daily.com