DeBary, FL – 21 July, 2015 – An irate cleaning lady ended up in jail after ordering her dogs to attack a husband and wife Repo Team attempting to repossess her vehicle and calling 911 to complain about the Volusia County Sheriff's Office deputy who came out to investigate.
As of 1:30pm Tuesday, 48-year-old Guadalupe C. Hernandez is held at Volusia County Jail on a $500 bond for making a false 911 call, according to the jail's website.
It all started around 3:30pm Monday at Hernandez's home on Rosita Drive, according to her arrest report.
A 50-year-old man and his 34-year-old wife called VCSO for help, saying that they had come to Hernandez's home to repossess her silver 2008 Saturn sport utility vehicle because there was a lien on the vehicle for non-payment.
The wife told 911 dispatchers that Hernandez came out of the house as they were hooking her SUV to their tow truck, got into the front seat of the SUV and initially refused to get out.
It was at that point, according to the arrest report, when Hernandez got out of the car, went back to her home and let several of her dogs out, ordering them to attack the repossessers.
By the time deputies got on scene, the SUV's front wheels were already attached to the wrecker and Hernandez was blocking the open driver's door of the SUV while trying to pull the male repossesser out of the driver's seat, per the report.
A deputy wrote in the report that he asked Hernandez to step away from the vehicle and get her dogs back in the house, but she refused to do so and told him she was going to ask for a different deputy because he wasn't helping her.
Hernandez was arrested a few minutes later after she placed a call to 911 asking for VCSO to send another deputy to her home, per the report.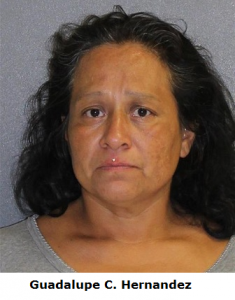 Neither of the repossessers had visible injuries, according to VCSO, but the woman told VCSO one of Hernandez's dogs bit her in the left leg. That dog was picked up by Orange City police and placed on a 10-day quarantine, per the report.
When questioned afterward, VCSO says Hernandez told them the situation with her non-payment was supposed to be handled in court soon and she felt she should keep the SUV until then.
The vehicle was taken away by the repossessers after Hernandez was arrested.
Story by: WNB NewsDaytonaBeach