Southfield, MI – July 30, 2015 – A 44-year-old man who was just doing his job, repossessing a vehicle in Southfield, is recovering in the hospital after being shot in the leg.
The incident unfolded around 5:30 a.m. Thursday in the 22000 block of Chatsford Circuit, in a neighborhood south of 12 Mile Road off of Lahser Road.
According to police, two workers were in the process of repossessing a Chrysler 300 when a 69-year-old man stepped outside in his underwear and opened fire, striking one of the workers in the leg.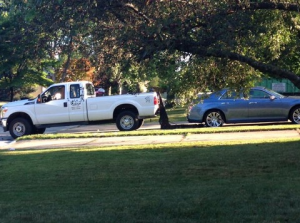 The victim, a Southgate man, was taken to the hospital in stable condition. His 26-year-old co-worker was uninjured. That man, who only wanted to be named as Josh, told WWJ's Vickie Thomas what happened.
"He screamed out 'Gun! Gun!' and I made my way toward the front of the truck to take cover. He proceeded cautiously to show him the repossession order, and he didn't even get a step in toward the homeowner and that's when he opened fire," he said.
The man fired five to eight shots, said Josh — who has only been training to be a repo man for about two weeks.
"I kept yelling at him 'Put the gun down! Put the gun down!' but he wasn't listening," he said.
Police arrived on the scene and the gunman was taken into custody without further incident. Investigators say a handgun believed to be used in the shooting has been recovered.
Josh said he understands they were at the man's house fairly early in the morning, but he insists it was clear they were not trying to steal his car.
"We identified who we were, what we were doing and what our intentions were," he said.
An investigation is ongoing.
Story By: Vickie Thomas/WWJ Newsradio 950