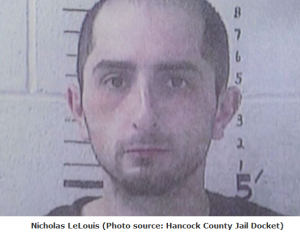 Hancock County, MS – March 19, 2015 – A 25-year-old Hancock County man is out on bond after being charged with firing gun shots at a repossession agent Friday night.
Hancock County Sheriff's investigators say the arrest stemmed from an incident where a repo man from Holmes Motors went to the suspect's house to repossess a truck.
Officials say as the agent pulled off, a bullet struck the vehicle.
Investigators say Nicholas LeLouis used a pistol to fire three shots at the Holmes Motors repo agent. Authorities say one of the bullets hit the truck as it left the driveway.
"There was a round recovered from the vehicle," said Anthony Gambino, with the Hancock County Sheriff's Department.
Investigators say LeLouis told them he believed his truck was being stolen.
"We do know his life was not in danger when those shots was fired," explained Gambino.
Orenthial Smith works for a different repo company, Quality Recovery, in Hancock County. He says he has never been shot at but has experienced the dangers that come with the job.
"I've been chased by a couple of people, people coming out on their porches with guns to try to shoot us or chasing us down the street to run us off the road. But still, we've got to get the vehicle," said Smith.
He said the key to an easy recovery is the intelligence his company gathers before going to make a vehicle pick up.
"We have a skip trace program that we can run. We can find out their address, where they're at. If they've moved, we can find out everything about them. Find out their previous addresses, how many houses they've moved from. Anything about them, we can find out," said Smith.
He says that program even lists the addresses of relatives. Smith says people often hide vehicles at the homes of those closest to them, but he says technology always wins.
"Yes. It gets crazy sometimes, but if you've got a good team with you, you can get it done," said Smith.
Investigators say LeLouis turned himself in after he was notified his vehicle had been repossessed, not stolen. He's free on a $5,000 bond.