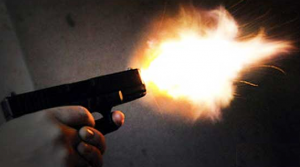 Athens, TN – 17 August 2015 – A man hired to repossess an SUV last Thursday evening had a gun pulled on him, resulting in charges being filed against the vehicle's owner.
At around midnight Thursday, McMinn County Sheriff's Department Deputy Brad Johnston responded to Title Max in Athens, where he talked with a man employed by Truck Town Recovery in Cleveland, who said he had gone to a residence on County Road 571 to repossess a Jeep for the loan company.
Once there, he spoke with the owner – identified as Billie Evans, 48, of Englewood – and told him he was there to take the vehicle. At that point, Evans reportedly walked over to the Jeep and pulled a semi-automatic handgun from under the driver's seat and then allegedly held it to the victim's chest and told him to "get the (expletive) out of here."
The repo man quickly left and headed back to the Title Max office, where he contacted the Sheriff's Department.
When Johnston and MCSD Sgt. Dale Murray arrived at the residence, they were told Evans was no longer there. Johnston and Murray did find the Jeep, however, and it was repossessed.
Johnston filed a warrant against Evans for aggravated assault. No arrest was made, however, as investigators are continuing to look for Evans. Story By: The Daily Post-Atenian.com