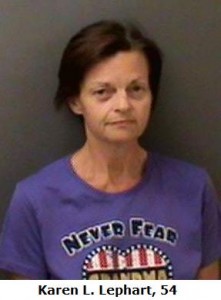 New Castle, IN – August 18, 2012 – A 54 year old grandmother faces two counts of intimidation, a Class D felony which carries a standard 18 month prison term for her alleged actions occurring during the attempted repossession of her 2003 Chevrolet 2500 truck.
According to the Indiana State Police, the alleged victims arrived at 54 year old grandmother KarenLephart's home on the evening of July 15 with a repossession order, targeting a 2003 Chevrolet 2500 truck, from Capital One. The 40 year old man and 34 year old woman claim that they sat in their tow truck while Lephart allegedly "shouted at them and, in the midst of an argument, pointed a loaded handgun" at them.
A man living at the same address was reportedly standing nearby with a loaded shotgun, but its barrel was pointed at the ground.
Lephart was released on bond and faces a November 20 trial date.