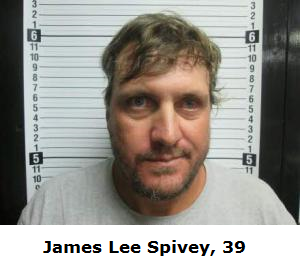 Ash, NC – October 12, 2013 – James Lee Spivey had no intention of either talking or listening when Repo Man Gary Smith of Rosak's Towing and Recovery came to repossess his truck. He instead, opened fire repeatedly.
According to police reports, Spivey fired at a tow truck operated by Gary Smith of Rosak's Towing and Recovery,. Smith was not injured.
Robert Rosak, owner of the towing company, said Smith was there to repossess Spivey's truck, but Spivey had the vehicle locked in a shed.
"When (Spivey) came out and saw the wrecker, he started shooting at it," Rosak said.
Smith got out of his vehicle and yelled at Spivey to stop. Spivey responded by shooting at Smith, Rosak said.
Rosak said Spivey shot out two tires on the tow truck before demanding Smith leave the property.
"Gary told him it would be hard to leave with two flat tires," Rosak said.
Smith said Spivey eventually got into a car and sped to his parents' house in Columbus County where he was arrested.
Spivey, 39, is charged with two counts of discharging a weapon into occupied property, two counts of assault with a deadly weapon, two counts of assault by pointing a gun and two counts of injury to personal property, Brunswick County Sheriff's Office reports show.
Spivey was held at the Brunswick County Detention Facility until posting $67,000 bail.