Millington, TN – December 28, 2012 – A Thursday afternoon repossession turned ugly when a Memphis Repo Man found himself with a gun to his head.
According to a police affidavit, Kendall Joy allegedly discovered Repo Man, Derrick Jones repossessing his vehicle on Thursday shortly before 1 p.m. on Thursday, and asked an unidentified woman to go inside and get a gun. Upon her return, Joy allegedly pointed the weapon at Jones, told him to put his car down and said, "I will kill you man."
Jones, the Repo Man released the vehicle, which was then driven away by the unnamed female, and Joy ran into his house when police arrived at the scene, according to the report.
Officers forced entry into a rear door of the house and took Joy into custody without further incident.
According to police, three children inside the house told officers that there were several more guns inside.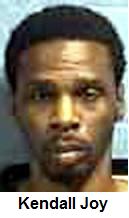 Officers obtained a search warrant and found an AK-47 rifle, a Remington 870 shotgun, a Desert Eagle .44 magnum and an Intratec firearm that was reported stolen out of Memphis, as well as several magazines and shotgun shells.
The search also revealed inmate information on Joy, but investigators said they had not yet determined by Friday afternoon whether Joy was a convicted felon.
Joy is being held in the Millington city jail on $100,000 bond.