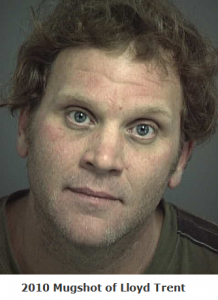 Spartanburg, SC – August 1, 2014 – Maybe there's something in the water? Just a week after a Spartanburg woman was caught on film biting a Repo Man and smashing the windows out of her SUV, another fine outstanding citizen of this town threw his own temper tantrum.
According to police reports, a tow truck arrived at a convenience store on East Main Street on Friday afternoon attempting to repossess a green and tan 1983 GMC pick-up truck that was spotted there.
The Repo Men reported that after their tow truck was backed up to the vehicle and was in the process of recovering it, the driver threw the pick-up truck in reverse, causing it to slam into the top of the tow truck. They said the driver was then able to drive off of the lift that was holding the pick-up truck in the air.
The driver, identified as Lloyd Trent, then allegedly crashed into the tow truck again and nearly ran over one of the Repo Men at the scene.
Deputies said a judge found enough evidence to issue arrest warrants charging Trent with assault of a high and aggravated nature and malicious injury to personal property.