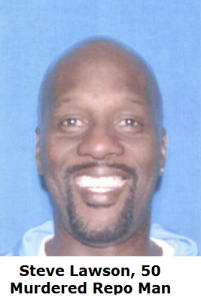 South Gate, CA – July 29, 2014 – The search continues for his killers of a murdered Repo Man on Monday as the Los Angeles County coroner's office identified the victim who was fatally shot in South Gate after repossessing a Dodge Caliber.
Steve Lawson, a 50-year-old father from Bellflower, was shot and killed early Sunday while he was lawfully repossessing a vehicle, according to the Los Angeles County Sheriff's Department.
The incident began when Lawson picked up the car in Compton. Lawson was possibly being followed by multiple people and vehicles as he towed the repossessed car when gunshots rang out, according to the police department.
Witnesses in the area stated that they had heard at least 10 to 12 rounds fired during the incident.
He continued to drive until his tow truck collided with another vehicle near the intersection of Firestone Boulevard and Rayo Avenue in South Gate a short time later. Lawson was shot at least once after he got out of the truck, authorities said.
He was transported to a local hospital where he later died.
At last report, no arrests had been made in connection with the shooting.