Taylor, NY – November 30,2012 – A 38 year old Repo Man stands accused of beating a borrower who refused to allow him and his assistant to repossess his vehicle.
Last Tuesday, November 20, officers from the Cortland County Sheriff's office were called to the address of 3356 Route 26 in the Town of Taylor to respond to a call of an alleged assault that had happened during the repossession of a vehicle.
After their brief investigation, they learned that 38-year-old Michael G. Thayer of an unidentified repossession company, attempted to repossess a vehicle from an unidentified borrower who allegedly stood in front of the vehicle, trying to prevent Thayer's repossession attempt.
When the alleged victim would not move, Thayer and an unidentified man reportedly got out of the vehicle that they were in and began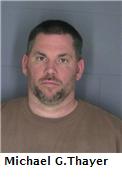 kicking the victim. The victim fell to the ground and Thayer and the other man left with the vehicle.
Thayer was arrested on Thursday and released pending an appearance in Court on December 5, 2012 on misdemeanor assault charges.
The victim was treated at the Cortland Regional Medical Center on the night of the incident for unspecified injuries.
The investigation is ongoing and more arrests may be made.