View more videos at: http://nbcmiami.com.
Fort Lauderdale, FL – March 15, 2013 – According to reports three people were killed after a small airplane crashed soon after taking off from Fort Lauderdale Executive Airport.
The twin-engine turboprop was attempting to return to the airport after experiencing problems when it crashed in a fireball in a nearby repo company parking lot, destroying several cars and a boat, on the ground.
"It looks like a junk yard that burned up," said Matt Little, a spokesman for Fort Lauderdale fire and rescue.
Fire-Rescue Division Chief John San Angelo said the plane hit a tree and a fence as it crashed.
Terry Knowles, owner of R.J. Asset Recovery, a repossession lot, reported that he and another one of his employees were in the lot when the plane crashed.
"I was working on a car, and I heard the engine behind me. I turned around and saw the plane coming right over the building in front of me," he said.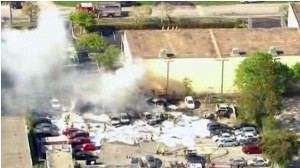 Knowles said the plane appeared to be banking around to head back to the airport, but it just couldn't get the lift.
"It hit the ground and exploded," Knowles said. "It was an instantaneous fireball."
Rick Blackburn was outside working on a race car when he saw the plane tilting sideways in the air as it rapidly descended down.
"The plane hit really hard. We knew the pilot hadn't survived. It was too intense of an impact," said Blackburn.
About 40 firefighters responded to the scene. San Angelo said smoke and the flames were so heavy that when firefighters first arrived, they couldn't tell where the plane was.
The airport serves smaller planes rather than the larger commercial flights at Fort Lauderdale-Hollywood International Airport.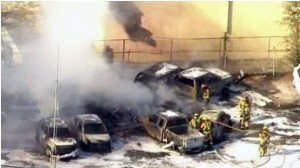 Knowles, the repossession company owner, said six of the destroyed vehicles were repos, while the seventh was his own truck. His boat, mud buggy and camper were also destroyed. Several other vehicles sustained lesser fire damage.
"Luckily it was just a bunch of property damage," Knowles said. "Things can be replaced. People can't, unfortunately for the people on the plane."
Knowles, who has lost both business and personal items, is hoping to get the parking lot cleaned so he can get his trucks in and out safely.
"A lot of property damage," said Terry Knowles, the owner of RJ Asset Recovery. "Just trying to get things cleaned up so we can get back to work."
"My boat, my hunting buggy, my dooly, my trailer, my camper," said Knowles as he made the list of his losses. "As far as businesses and vehicles, somewhere around $300,000."