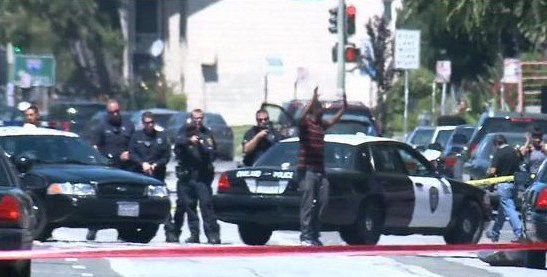 Oakland, CA – July 25, 2014 – An angry man upset that his car was being repossessed opened fire on the repossession agent in Oakland Friday, prompting a long standoff with police before he surrendered.
No one was injured, but the repossession truck was hit by gunfire, police said.
Officers were dispatched at 9:17 a.m. to the 900 block of Seventh Street for reports of gunfire.
The repossession agent was driving off with a car in tow when the shooter, later identified as Gabriel Duncan, reportedly ran up and began firing at him, police said.
The bullets missed the agent, but shattered the windows of the tow truck and a nearby parked car.
The suspect's godmother said the man is mentally unstable. "He can be 51-50 (police code for mentally unstable person) and he's sucidal. You know, so I'm a little scared for that," said Queen Byrd-Proctor.
Police were told a man matching the shooter's description had run into a townhome on the 1000 block of Seventh Street. Officers hid behind patrol cars with guns drawn in a standoff near the townhomes, and at 11:50 a.m. a man walked out, surrendered to police and was handcuffed.
Duncan, an Oakland resident, was arrested on suspicion of assault with a deadly weapon and for probation violation.