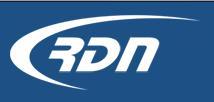 Introducing locksmith services and expanding access to key code requests
Redwood City, Calif—Building on a successful partnership that streamlines the vehicle recovery process, Recovery Database Network (RDN) today introduced locksmith/key services from KeyCode Pro, a leading provider of key codes and other automotive lock solutions.
Since the 2011 launch of RDN's partnership with KeyCode Pro, automotive lenders and recovery service providers have been able to request key codes necessary for cutting keys to repossessed vehicles. Requests are made directly from the RDN recovery software platform, making the recovery and remarketing process more efficient.
Locksmith/key services from KeyCode Pro's sister company KeyNET are now available nationwide for ordering within RDN's recovery software platform. Both lenders and recovery agents can easily obtain key cutting, key programming and other related services under a fixed pricing model. Locksmith/key services can be ordered for a single VIN or multiple vehicles. Lenders and agents also have the option to automatically order locksmith/key services for specified assignments in RDN, and can choose to be invoiced for all KeyCode Pro locksmith/key services directly through RDN.
"During the past two years, the addition of KeyCode Pro to RDN's suite of recovery services has been extremely well received," said Todd Hodnett, president and CEO of RDN. "Including locksmith/key services in our menu of service options is the next logical step to provide our clients with greater convenience and efficiency that accelerates the recovery and remarketing of their collateral."
"We are experts in providing industry-leading VIN to key code solutions," added Boris Jurkovic, president of KeyCode Pro. "During the past several years, lenders and recovery service providers have appreciated the ability to easily turn VINs into key codes with a simple click of a button on RDN. We're pleased to partner with RDN and offer key services to their users."
RDN's partnership with KeyCode Pro also provides additional benefits, including: key program design and implementation, after hours/weekend requests and automotive lock technical support.
For more information, please contact RDN at 817-204-0298, select option #2.
About RDN
RDN is a provider of software and data solutions related to the recovery of assets for the automotive finance industry and is a subsidiary of OPENLANE, Inc. OPENLANE is a leading provider of online automotive auction platforms and is itself a subsidiary of KAR Auction Services, Inc.