Dover, WI – April 22, 2013 – Early Sunday morning, police responded to a shooting call to find a critically wounded John E. Noble of Dover and owner of Reaper Recovery. Noble soon died at the scene.
Milwaukee Police responded to a shooting call at 3:45 a.m. Sunday where they found John E. Noble of Dover, known to most as "Jack."
He was shot and died later at the scene, according to police.
Police report that it appeared that he died after a robbery attempt, but the investigation was still ongoing Monday and no one was in custody.
Friends and neighbors in Dover described Noble as a funny, sometimes "eccentric" man they knew who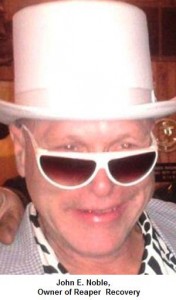 regularly sang karaoke and liked to make people laugh.
Linda Hegemann, a friend didn't know what he was doing in Milwaukee, but guessed it could have had something to do with a repossession assignment for his repossession business.
"If he was in Milwaukee, he was either there to help someone or to work," she said. But Milwaukee police said on Monday that Noble he was not working at the time.
"There will never be another guy like Jack," Linda Hegemann said. "He was one of a kind. He will be missed."