WTOC-TV: Savannah, Beaufort, SC, News, Weather
Charlotte, NC – August 9, 2012 – A repossession lead to a car chase with a high powered rifle being fired multiple times at the Repo Men through the streets of Charlotte this morning.
Two Repo Men were chased down and one shot during a repossession Thursday morning at 3:30 a.m. Police report that two Repo Men had taken possession of a a car along Barcliff Drive, when the owners of the car stormed out of the house where the car was parked.
Heated words were exchanged, and the Men jumped into their tow truck with the car attached and fled with the two people who owned the repossessed vehicle chasing right behind them.
Police report that the suspects then pulled out a high-powered  rifle, and began shooting at the Repo Men during the chase down Billy Graham Parkway when the car became dislodged, and fell off the back of the tow truck.
Reportedly, the suspects continued to chase the tow truck all the way down to SouthPark Mall.
At some point in the chase, the driver of the tow truck was shot twice in the shoulder.
Officers arrived at the scene and spotted the suspect vehicle, pulled them  over and arrested them.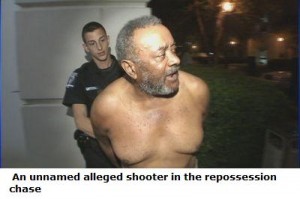 Police recovered the rifle and will reportedly be charging at least one of the men with assault with a deadly weapon as well as other potential charges.
The Repo Men's tow truck continued on, until finally stopping at the parking lot of a Walgreens along Morrison Boulevard.
Medics transported the driver and police report that the injuries were not lie threatening and believe he should recover.
See the update: Charlotte Shooter, Victim and Repo Company Identified