Press Release
WELCOME TO THE RELEASE OF THE MOST VALUABLE TOOL IN THE REPOSSESSION INDUSTRY.
RepoSpotter.net is raising the industry standards and MAKING ASSET RECOVERY SIMPLE.
"The Road To Your Success, Is Just An Address Away"
How would you like to have the opportunity to make money just driving around, even in your everyday commute?
With our new Repossession Mobile APP for your OS 4.0 or higher Android smart phone, you can!
You will be alerted when you are within 1 mile of an address that is associated with any repossession order in the Nationwide Database.
1. Receive an alert through the repossession mobile app when you are within 1 mile of an opportunity address.

2. Accept the opportunity on your smart phone.
3. Receive driving directions to the opportunity address.
4. Receive vehicle information when you are within 150 feet of the opportunity.
5. Spot the vehicle.
I found it! Now what?
1. Call the company who is holding the repossession order on the vehicle, by using the call button on the mobile app.
2. A link is sent from the mobile app to the company's email notifying them that you are the spotter for the spotted unit.
3. The Repossession Company accepts the link by following the steps provided in their email.
1. After the repossession company processes the recovery, funds move immediately to your RepoSpotter account.
2. It's that easy!
Mobile app also has a MLPR Feature (MANUAL LICENSE PLATE RECOGNITION).
MLPR (MANUAL LICENSE PLATE RECOGNITION). You can at any time activate this feature in or out a radius. Once the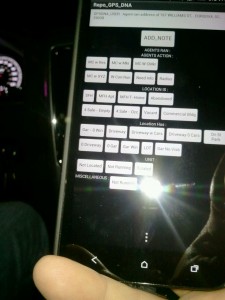 LPR is selected, the app is ready to take a picture of any license plate. The app can take image of any license plate for any state. When you take the picture app will ask you to confirm the characters on the plate. Once confirmed and you submit the plate information is saved for your future historic locate purchases.
More info @ RepoSpotter.net
** If you are a repossession agent and the vehicle is yours, no need to call, just pick it up. Repossession companies or lenders will not get paid for locating their own vehicles or assignments under the Repospotter program.