Las Vegas, NV- September 21, 2012 – Recovery Specialist Insurance Group and Allied Finance Adjusters hosted a joint compliance training seminar in conjunction with Allied's mid-year meeting hosted this week at the Golden Nugget Hotel and Casino in Las Vegas, NV. Michael Howk, RSIG'S Director of Education and Allied's Compliance & Education Chairman Tom Wentling, presented the full day session on compliance.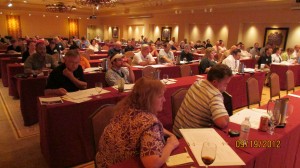 Attendees were provided free of charge, sample documents that can be customized for their business needs as well as the policies, procedures and forms needed to ensure that the members agency is prepared for the lenders expectations and CFPB compliance. Over 120 were in attendance at this very important professional development and training event. For those RSIG and Allied members not able to attend the event, the documents will be made available through future joint meetings and each organization's secure website for their use.
RSIG and Allied will continue to offer their members updates to these documents and policies as needed and encourage their member's
to begin regular training sessions with their office and field staff to ensure everyone is prepared to deal with these new challenges. Both organizations stand ready to assist their members should questions arise. As the value of training, education and professional development becomes the cornerstone of every successful repossession business, Recovery Specialist Insurance Group and Allied Finance Adjusters are proud as leaders in the industry to help our members position themselves to succeed in this ever evolving industry.
As the industry continues to change, we remain steadfast in our desire, intent and ability to assist our growing memberships by continuing to offer these FREE and most important services and benefits of membership
Jim Clark
Director
RSIG
703-365-0199 ext.234 cell 615-480-8983