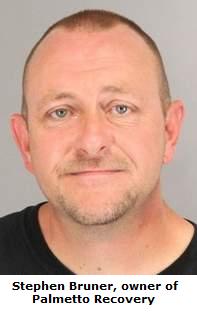 Spartanburg County, SC – June 6, 2012 – Deputies arrested a reported South Carolina Repo Company owner who was trying to repossess a vehicle while a fake badge with his name on it and the state seal hung from his trucks rear-view mirror.
According to online jail records, Stephen Kenneth Bruner, 41, owner of Palmetto Recovery, has been charged with trespass after warning and impersonating a law enforcement officer.
County Deputies responded to a call at a the home just before 1 p.m. Tuesday and found the resident and a toddler sitting inside the vehicle parked in the home's driveway with its rear lifted in the air by a tow truck. A deputy spoke with the operator of the truck operator, who identified himself as Stephen Bruner according to a sheriff's report.
The deputy told Bruner that because he didn't have official claim and delivery papers, and because the vehicle was on private property, Bruner would need to lower the vehicle and leave.
According to the incident report, Bruner demanded to speak with a supervisor, and two sergeants showed up, telling Bruner to leave, as well. The deputies reported that Bruner claimed to have a problem with the truck's hydraulic system and that it was "obvious" he was intentionally not lowering the vehicle, the report states.
Deputies then place Bruner under arrest on the trespassing charge.
Another man in the tow truck lowered the vehicle without any problem.
According to the incident report, a search of the truck by a deputy revealed a pair of handcuffs and a badge with the state seal hanging from the rearview mirror of the tow truck. The badge had "S.K. Bruner" and "Recovery Agent" engraved on it, along with a couple of letters and several numbers.
Bruner advised the deputies that it was not illegal for him to possess the badge because he identifies himself as a recovery agent, according to police. The badge, the handcuffs, and a Smith and Wesson handgun, for which he had a permit, were placed into evidence.
Bruner was released Wednesday morning on $732 bond, according to online jail records.