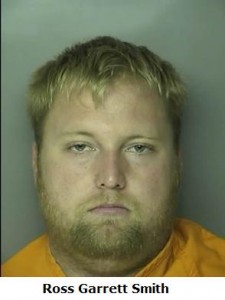 Conway, SC – July 11, 2012 – A 24 year old Myrtle Beach man with prior arrest records, reportedly assaulted a woman after a repossession. Despite the repo companies claim that he wasn't affiliated with them, he was performing another repo as officers were interviewing the company.
Horry County Police report that Ross Garrett Smith, 24, of Myrtle Beach, who claimed to be working for Duke's Recovery Service in the process of repossessing a 2001 Chevrolet Trailblazer on July 10, 2012.
When the borrower of the vehicle asked to be allowed to get her wallet out of the car, a second man drove off with the vehicle on the wrecker.
According to the police report, Michelle Hucks, 41, of Horry County, claims Smith assaulted her after the tow truck drove away.
Police followed up with an interview at Duke's Recovery Service, and was told that Smith was not affiliated with their company.
Police dispatch then advised officers that Smith was in the process of performing another repossession and taking the car to Conway Auto Sales, the officer went to Conway to interview him.
It is unclear if Smith was working for the dealer and was assisting the repossessors or if he actually works for the repossesion company.
Smith and another man told the officer conflicting stories about the alleged assault. The officer also learned that Smith had an outstanding traffic warrant in Georgetown County.
Smith was arrested at the scene and charged with Simple Assault and Battery.
Smith was arrested earlier this year for leading Horry County police on a car chase before crashing. He was also arrested for some Socastee area burglaries in 2011.