Sumter, SC – November 20, 2012 – Just before 2pm in the afternoon, 45 year old Repo Man Todd Showell was shot and killed by an 81 year old man that claimed they had the wrong vehicle.
Sumter County Sheriffs deputies have arrested 81 year old Alton Shelley and have charged him with murder.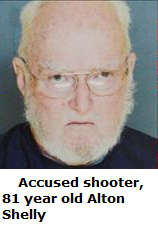 Investigators claim that just before 2 p.m. on Tuesday, officers received a call of a shooting on Fletcher Drive. When officers arrived they found a black tow truck in the middle of the road and the driver, 45-year-old Todd Showell, shot dead.
Investigators claim that Showell and another man came to the home to repossess Shelley's vehicle, but Shelley insisted that they had the wrong one. Deputies allege that the men were driving away without the vehicle when Shelley fired shots, hitting Showell and fatally wounding him.
Sheriffs Investigators say the shooting remains under investigation.
Update:  
It is being reported that Showell was employed by Silverhawk Towing and Recovery and was accompanied by Owner/Operator Gerald D Lee.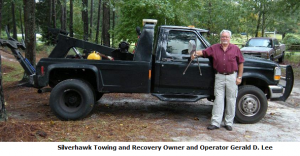 A second arrest has been made in connection with the shooting. The Sumter County Sheriff's Office says 44-year-old Denise Michelle Livingston has been charged with two counts of accessory after the fact of a felony. The Sheriff's Office says Livingston went inside the residence where Alton Shelley was located and let him outside with a handgun.