Hopkinsville, KY – August 29, 2012 – 19-year-old Franklin Wilson learned the hard way that when the officers tell you to get out of the car, they mean it.
The incident occurred at approximately 11 a.m. when officers responded to a reported disturbance. Upon arrival, they found repossession agents to be in lawful possession of a vehicle owned by 19-year-old Franklin Wilson.
Wilson had reportedly initially cooperated with the repossession and was allowed to get into the vehicle to retrieve personal belongings but is alleged to have soon after refused to get out.
When the officers arrived, Wilson reportedly ignored their orders to exit the vehicle and allegedly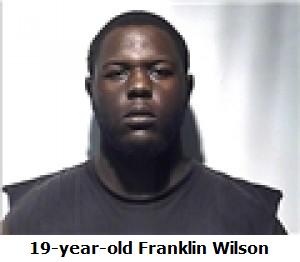 pushed Officers Brian Smith and Jerry Marcum in the chest. Officer Smith soon after deployed his taser on Wilson who was then taken into custody without further incident.
Wilson is charged with one count of 2nd degree disorderly conduct and two counts of 3rd degree assault on a police officer. He was booked into the Christian County Jail and released later the same day.