Associations, Skip Tracing and LPR
In our second installment of our annual survey, we found a negative shift in the attitudes toward repossession associations and LPR. It appears as though some patience is running out with both the associations as well as the LPR providers. At the same time, the hope of unity and the value of training seem to growing.
Click Here to see the first series of survey results!
Associations
Is your company a member of a state or national repossessor association?
With a mere 3.6% increase in respondents that claim to be members of an association, this 87% ratio is fairly consistent with last year.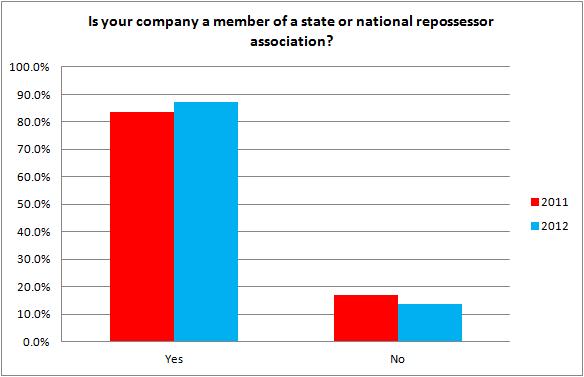 If your company is a member of an association, which one?
There was a sizeable and inexplicable shift in response to which associations the respondents belonged to indicating a larger number of the respondents belonged to state associations while a clear lower number of AFA members responded. While this does not necessarily indicate a reduction in AFA member numbers, it does reflect that the respondents may not be a clear reflection of AFA member values.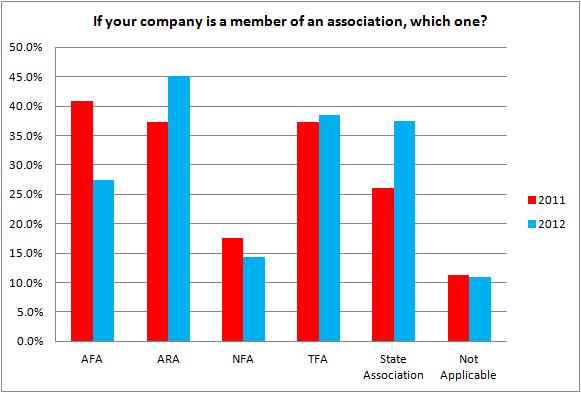 Do you feel that your association is a worthy investment and addresses your industry concerns?
Here is where the satisfaction of the associations begins to show. With a 6.1% decrease from the 2011 70.6% approval ratio, there seems to be some discontent.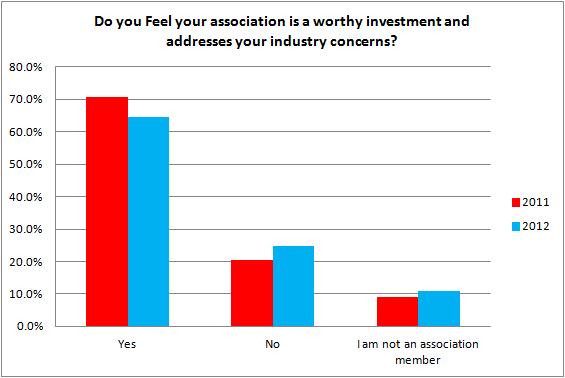 Do you feel your membership in an association adds value to your business?
Again, while the majority are satisfied, there is a 6.7% decrease from the previous year. Keep in mind the shift in respondent affiliations. The non-affiliated had almost no change while the state association respondents increased. This may have some bearing.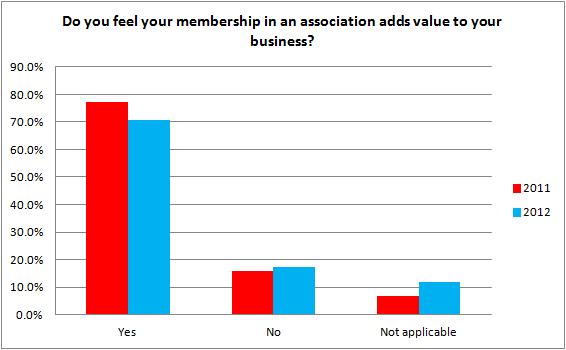 Would you like there to be one unified and nationally organized repossessors association?
While the desire to see a single national trade association grows, as illustrated by 10%, the probability of this seems as far away as it did a year ago. Let's just hope the industry can more coalesce than fracture and perhaps this may yet develop.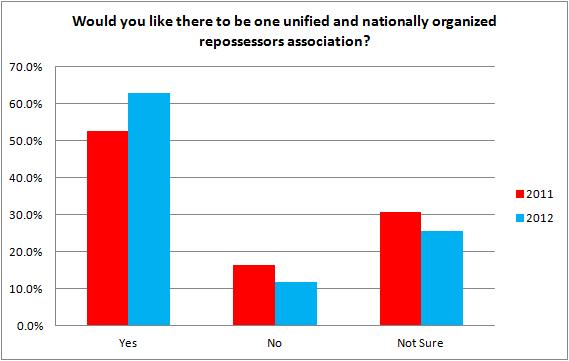 Do you believe it is possible to for the repossession industry to be unified as only one national repossessors association?
Pessimism abounds as there was a 5% increase in people who don't believe there will be any unity now or in the near future.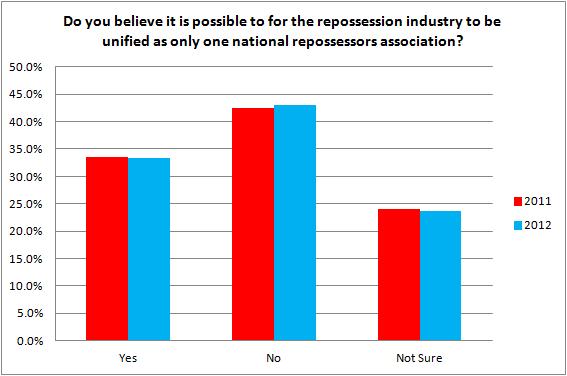 Do you feel that the industry associations are doing a better job in representing the industry than in years past?
This is  a new question so there is no baseline from last year but it couldn't be muddier. No one seems particularly enthused that the associations are doing a better job in representing the industry, but then again, this is split up amongst all of the associations, as well as input from persons not affiliated.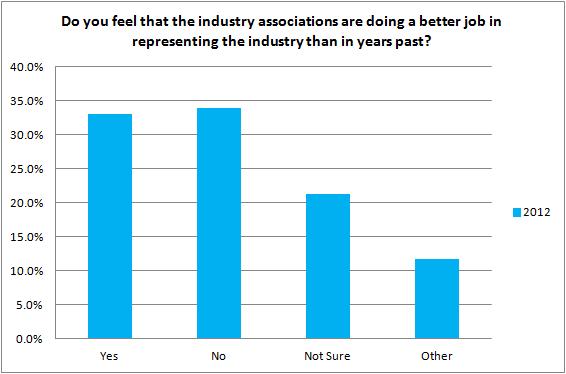 Did you attend an industry association meeting or convention last year? If so, which one?
NARS appears to have the edge in this new question and not surprisingly. It's always a great event to see the broadest spectrum of the industry all under one roof. To boot, there always seems to be some surprises. If you've never been, you owe it to yourself and your company to go in 2013.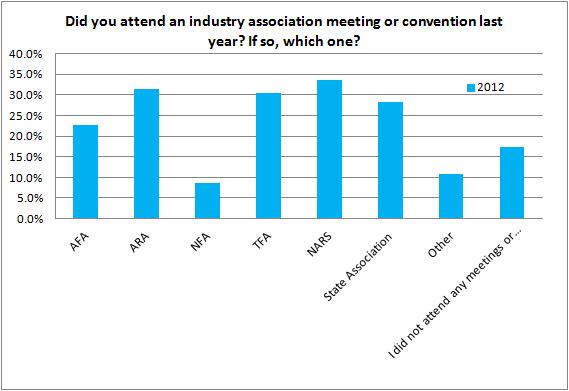 If you did not attend any conventions or meetings, why not?
Time is money and money is time. These are the two primary reason people don't attend conventions and meetings.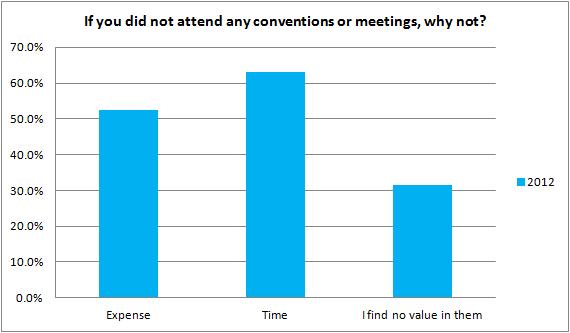 Did you find value in the conventions or meetings you did attend?
Perhaps a message in this to the naysayers and reluctant attendees from the last question. Those that do attend seem to find and overwhelming value to them. Folks, sometimes you need to invest in your company to kick it up a notch. There's a lot to learn from your cohorts and competitors.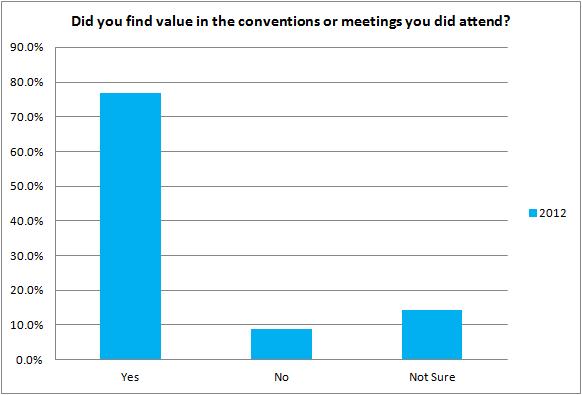 What would you like to see more of in the association conventions?
This was an open ended question. Please just a sampling of the 103 responses below.
EDUCATING THE CLIENTS. THAT IS WHERE OUR PROBLEM LIES. CLIENTS ARE PRICE FIXING AND WANTING US TO FINANCE THEM. THIS WILL KILL US ALL, IF NOT STOPPED
To begin with, there needs to be more unity in the industry. Companies that are just starting can and do lower the repossession fees, which leads to less experienced agents in the field. As a former founding board member for FITRA and legislative lobbyist for the for hire industry both in Florida and nationally, the idea that one association can represent the industry is both possible and necessary. The associations need to be for the agency and agent, create a structured procedure, standardized legislation which protects the industry and promotes a positive procedure that is uniform. As well, the lending and forwarding industry should be dual trained in both the skip/forward process, but in the field so that there is a common understanding and procedure within the components of the industry. I could go on for days as to improvements to the industry as a whole and part.
Honesty
Clients
I would like to see our industry leaders get together and put egos aside to create a national association. It can be done if we follow a model like the United Nations. If its done this way we can have one united voice with all the associations staying intact.
Sending a message to the clients that contingency is killing our industry, not the forwarder, rather contingency which hurts in many ways. Get the collateral or don't get paid an all or nothing situation…creates desperation for field agents and likely the cause for issues arising when contact is made with customer/agent and customer doesn't want to surrender….
Education and training on laws, regulations, and better work practices.
More on the compliance and professionalism
CLIENTS REALLY LISTENING AND FOCUSING ON THE REPOSSESSION AGENT AND WHAT THEIR JOB REALLY CONSIST OF. AND IN THIS ECONOMY WHY ARE YOU CUTTING OUR RATES INSTEAD OF INCREASING THEM. WHEN A REPOSSESSION AGENT CUTS THEIR PRICE TO OUTWIN THE COMPETTITON THEY ARE NOT ALWAYS THE BEST COMPANY TO GO WITH. YOU GET WHAT YOU PAY FOR
More Industry News, More Networking, less advertising, less grumbling
Truth !!
Education
Cover topics that have practcial day to day application. Too often the presentations are self serving and do not apply to the majority of the members.
More ongoing education focused on compliance issues
I would like to see Vendors who pay to be there allowed more time spent with the agents then they have now and in the past. At most, vendors get 15-20 mins in between breaks and thats not enough time spent. If vendors, especially the ones that sponser had a day or a half aday during the conventions dedicated to just them, I believe the associations would benifit from this which equals more money for them as a whole.
Become more assertive in the industry with clients and vendors in order to create avenues for increased profitability, via fluctuating fuel surcharge, camera revenue, insurance discounts etc.
THE ASSOC. SHOULD HAVE THEIR ATTORNEY LOOK AT EVERY CONTRACT THAT COMES FROM A NATIONAL LENDER AND GIVE AN OPINION FOR ALL MEMBERS. THEY SHOULD HAVE STARTED EDUCATING ITS MEMBERS LONG AGO. WE SHOULD NOT HAVE TO GO TO AN OUTSIDE SOURCE LIKE RISC OR RSIG OR ANYWHERE ELSE TO GET CERTIFIED AND PAY $300 FOR EACH EMPLOYEE . NOW CLIENTS ARE ASKING FOR ALL EMPLOYEES TO BE CERTIFIED.
More lenders in attendance.
Organization of a movement toward a Class Action lawsuit against the producers of the "Reality TV shows like Operation Repo,and Lizard Lick Towing " which depict the professional Repossessor in such a negative light and their publicity has led to a sharp increase in acts of violence against Repossessors.
More unity and action on the promises being made.
More lean holders so they can hear what we have to say an what we have to go through to get a debtor to pay There note and leave us just to be a messenger an not get paid for time and fuel…..
Education and lender opportunities. Less power struggles, lying, and backstabbing. Less problems and more forward movement. I do belong to a state association and it is good, we have hit a hiccup and the whole power thing nationally has created state issues but hopefully that will all soon quiet down.
MORE UNITY IN THE INDUSTRY. I THINK THERE SHOULD BE ONE ASSOCIATION AND MAKE IT MORE LIKE A UNION. ALL COMPANIES SHOULD PAY THERE DUES AND SEND PEOPLE TO WASHINGTON TO LOBBY FOR OR AGAINST LAWS REGARDING THE INDUSTRY. ALSO, FORWARDERS KILL THE BUSINESS, FROM WORKING CONTINGENT TO MISINFORMATION COSTING THE GUYS WHO OWN THE TRUCKS TIME AND MONEY!
Serious progress in combating the forwarding issue, which would/might,maybe enable us to bill for services rendered, not to bill same as we did in the year 2000 !!!!
Education Federal Governance oversight understanding (like the CFPB) and how it impacts the Members Client seminars Workshops to help the new members build their business Understanding the nuances of Insurance and Workman's Comp insurance …many more ….
less speakers who are lenders telling us how screwed we are and more of those that treat their agents fairly.
I think it would be in the best interest of the association to ask clients attend to listen to the latest information regarding changes in laws and how they impact the client as well as the Repossessor. I think the industry needs to the opportunity to discuss the problems the agent have with the clients.
The associations were at one time the major driver for business to repo companies but that is no longer the case because the lenders do not see value in association membership. Therefore, conventions should not be billed as a way to meet new clients, they should be for education and support to members.
Need one group speaking for the industry.
UNITY!!!
LPR
This topic always seems to bring out either discourse or partisan rock throwing but the answers allowed were closed-ended so, there's none of that here.
Does your company utilize ALPR? If so, which service?
As expected, DRN maintained the lion's share of responses expanding it's responses by 4.8% while non-participating respondents reduced by 4.5%. It's clear, LPR is not going away.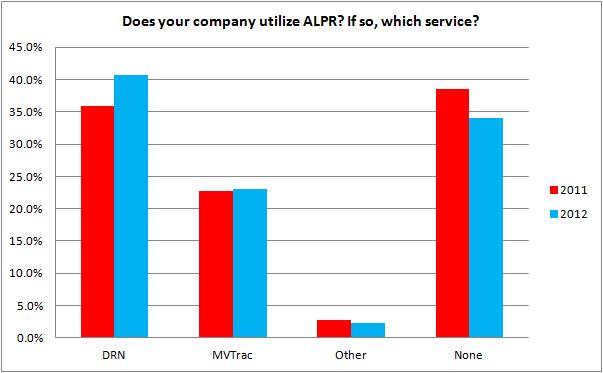 Are you satisfied with your ALPR provider?
This is a real mixed bag. Satisfaction is waning while dissatisfaction has grown by 10% since lat year.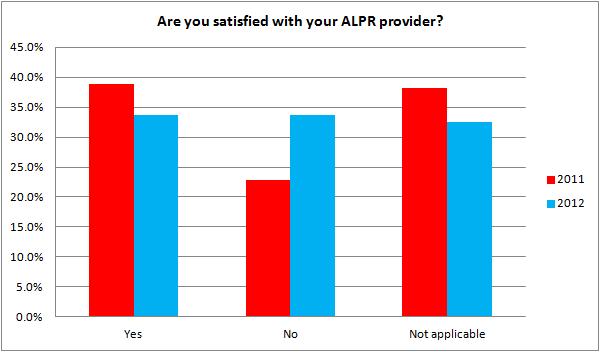 Do you feel that LPR has been a worthy investment to your company?
This is a new question which is very similar to the last. The response is far more positive than the last. Not sure what to make of this.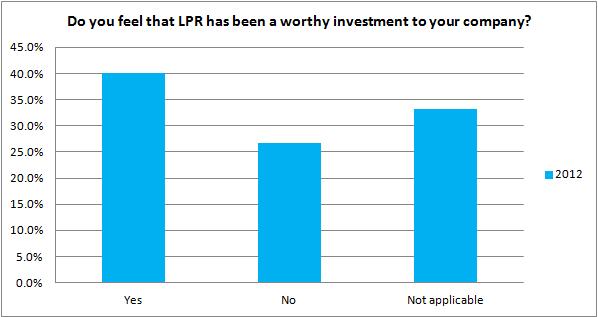 Does your company employ ALPR cameras to its tow trucks or to specially designed ALPR scout vehicles?
It appears as though the employment of LPR devices is being evenly disbursed amongst both trucks and scout vehicles.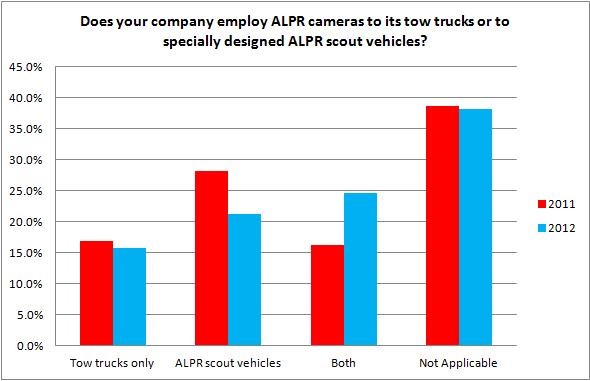 Does potential legislation or laws limiting or prohibiting the use of LPR inhibit your investment into new LPR cameras?
The threat of legislation from privacy rights groups doesn't seem to be inhibiting this industry, nor should it. The LPR industry, with assistance from law enforcement organizations, has done a good job of squashing the "feel good" laws intended to kill it.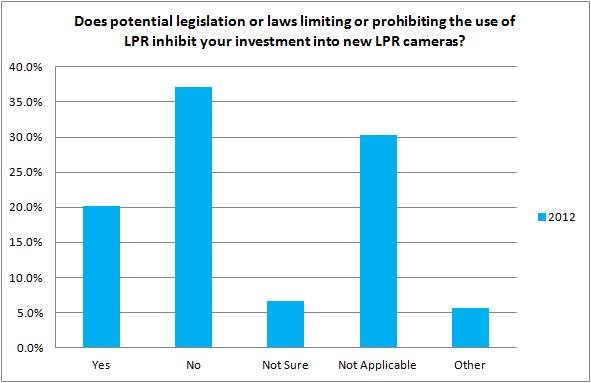 Skip Tracing
Does your company have its own internal skip tracer or investigator?
A whopping 92% of the respondents claim to have an internal skip tracer. That's almost a 5% increase from last year.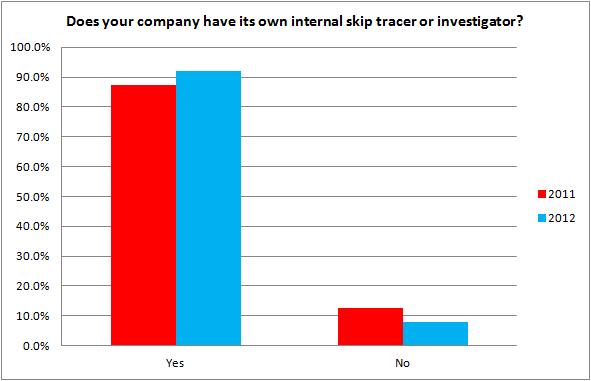 Would you or your company be interested in a national skip tracing certification program?
Interest in certification seems to be increasing as there  has been a 7.4% shift from those who were on the fence have shifted to either being in favor or opposition. Regardless, almost 50% are interested.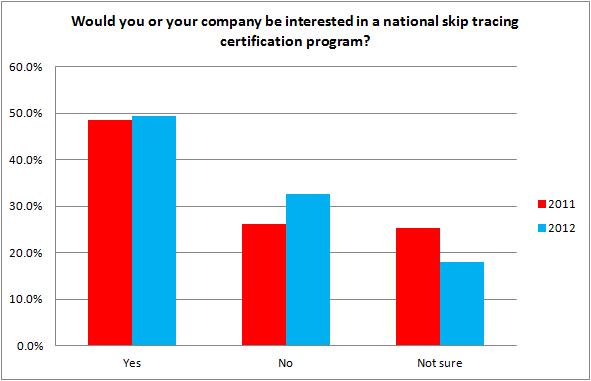 In the next survey results, Firearms, Danger, the CFPB and most important of all, what do you think about CUCollector?
Click to see the first series of survey results!