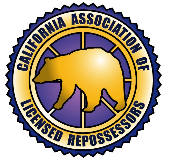 What if your state association could offer you a bond at a fraction of the price
…would you switch?
 Press Release
CA – July 16, 2014 – The CALR board JUST had a board meeting to approve moving forward with offering it's members a bond
The 52nd CALR Annual Fall Convention
SAVE THE DATE
Please join us at
The Mission Inn Hotel and Spa, Riverside CA
November 6th-8th, Thursday-Saturday
Announcing our Keynote Speaker
Eric North with North Legal
North Legal Website, please click here
To visit the hotel's website, please click here
Invite your clients as we are offering clients a free training seminar with Eric North covering bankruptcy, NOI's and Repossessions.
To book your flight, please contact our executive
office for our convention agenda
info@calr.org or 818-945-CALR (2257)
More information to follow including Registration Forms.
The CALR Board of Directors
info@calr.org
818-945-CALR (2257)
Thank you for your continued support.