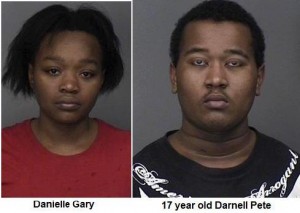 Utica, NY – December 11, 2012 – Two people were arrested after violently obstructing a repossession and smashing the two truck's windshield.
Police report that an unnamed Repo Man had begun loading a repossessed car outside of a residence on Brayton Park Place on Monday morning. The driver tried to find the owner, Darnell Pete, but was told he was not at home, police say. So the driver proceeded to load the vehicle onto his truck when the owner, a 22-year-old Danielle Gary, came out of the house and began yelling at him and allegedly jumped on top of the lift refusing to let the driver leave.
Then, according to reports, 17 year old Darnell Pete, who was with the owner at the time, allegedly threatened to get a gun and shoot the driver, but instead shattered the tow truck's windshield with a shovel and, police said.
The Repo Man then called the police who arrived and took both parties into custody. The Repo man was able to finish his job.
Police have charged both Gary and Pete with felony third-degree criminal mischief while Gary also is charged with misdemeanor obstructing governmental administration according to police.