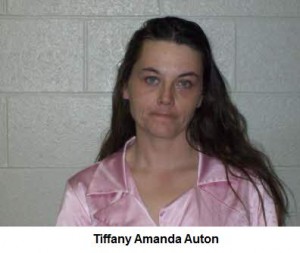 Watauga County, NC – January 16, 2013 – Some people like scrap booking as a hobby, 33 year old Tiffany Amanda Auton allegedly likes scrapping SUV's. At least, that's what she's been charged with after she allegedly scrapped her Blazer that was out for repossession.
Mountaineer Towing and Recovery of Vilas, NC reported to the Watauga County Sheriff's Office that a 1998 Chevrolet Blazer they had a repossession order on had been located and that it had been crushed at High Country Recycling.
The Watauga County Sheriff's Office Criminal Investigation Unit conducted an investigation into the incident and as a result of the investigation Tiffany Amanda Auton was charged and arrested.
Tiffany Amanda Auton, of Boone NC has been charged with one count of obtaining property by false pretense. Auton was arrested on January 15, 2013 and given a $3000 bond. Auton is scheduled to appear in court on February 26, 2013.