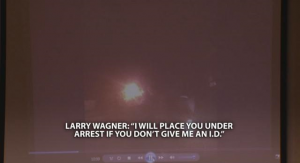 Louisville, KY – 8 October, 2015 – In September of 2013, Leslee Wagner and her husband Larry, who was also an LMPD officer at the time, arrested Adam Hannahs, who was attempting a repossession at their apartment complex.
The Wagners were both off duty at the time but claim Hannahs was uncooperative with them — so they arrested him and charged him with assault, disorderly conduct and resisting arrest.
Hannahs was later indicted as a result of Leslee Wagner's testimony to a grand jury. But since the video surfaced, the tables have turned.