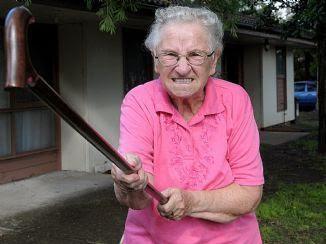 Tucson, AZ – October 25, 2012 – A Repo Man got chewed out by an angry grandmother over the drag marks he left in her dirt last month and could be facing legal action.
The unknown tow driver reportedly went to the woman's rural home in southeast Tucson last month to repossess a wrecked truck, according to a Pima County Sheriff's report.
Because the truck was wrecked and inoperable, it could not be driven and because of the way it was parked, the tow driver had to drag it down the dirt driveway to turn it around.
In the process of dragging the vehicle the tires gouged into the dirt leaving marks in the dirt driveway.
According to reports, this was when the cranky granny confronted the repo man about the damage. The Repo Man tried to explain that he could not back up to the vehicle, so he had to pull it out because the vehicle was turned around the wrong way and it could not be moved."
"When asked if he was going to fix the driveway, the tow truck driver allegedly stated: 'It does not matter, it is just dirt.' "
With that response, the woman called the sheriff's department to document the drag marks in the dirt before calling an attorney to pursue a civil action against the repossessor, according to the report.