Dallas, TX – July 26, 2012 – The difference between a repossession and a simple parking violation are clear, and as such should never be confused with each other. What happened in Dallas last week with a simple tow that ended a young man's life is just another example of why such care should be taken in agent selection. If the tow driver couldn't manage a simple parking violation tow, how would he handle a repossession?
According to Dallas Police, Juan Steele, 41, was killed just before 6 a.m. as neighbors reporteded that a tow truck was towing away his car from the Oasis apartments at 2508 E. Ledbetter Dr.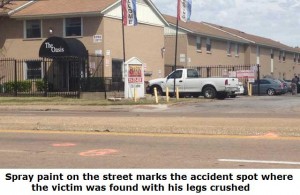 One witness reported looking out his bedroom window, where he witnessed the victim with his car hooked up to the tow truck and was shouting at the driver.
The details of the witnesses contradict each other where some witnesses report that the tow truck driver hit Steele head on, while others said he jumped on the tow truck and fell off, getting hit by his own car being towed behind.
Police claim that it does appear that the tow truck driver may have hit Steele hard enough to knock him down, but a second car may have come by and run over him, killing him.
"It looked like both of his legs were broke. There was blood coming out of his mouth. He was just laying there, not moving at all," said Jazzmen Beaird, a witness.
Steele was taken to the hospital but died from his injuries.
Police report that the tow truck driver did not stop. They later questioned him and he could face charges for failure to stop and render aid.
If a second vehicle was involved and if and when the driver is found, he or should could also face the same charge.
Residents of the complex said that many people have complained about the parking situation at the apartments, and towings are frequent in the area.