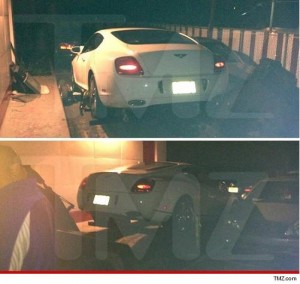 Hollywood, CA – June 25, 2012 – Reality TV pays well, but obviously not well enough to maintain payments on a Bentley after you get cut from "Basketball Wives" and your soon to be ex-husband refuses to maintain payments.
Former "Basketball Wives" star Jenifer Williams was relieved of possession of her white Bentley shown here in this photo provided by TMZ.
According to reports, Toyota Motor Credit Corp. filed suit in order to force possession of the car after unsuccessful attempts at self-help repossession. Reportedly, this loan may not be reinstated and TMCC is demanding payoff of $92,310 while the vehicle is scheduled for auction.
Perhaps if this happens again in the future she can do a cameo on "Operation Repo" or one of the other Repo Reality shows and have them do the repo.