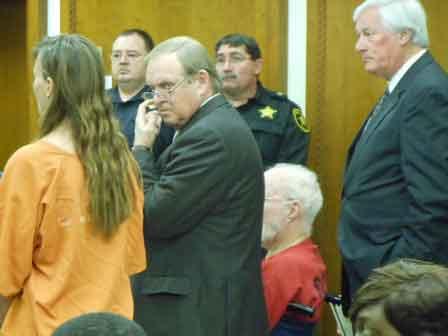 Sumter, SC – November 27, 2012 – Bail has been denied to last week's Murderer of Repo Man, Todd Showell. Alton Shelley, 81 and his 44-year old tenant Denise Michelle Livingston appeared in an arraignment where they made the ridiculous claim that Shelly fired the three shots by accident when he fell down and attempted to lay the blame on the incident on Showell and Lee.
In the hearing before Judge L. Casey Manning, Solicitor Ernest Finney stated the circumstances surrounding the murder that took place on the afternoon of November 20. Finney stated that Gerald Lee and the murdered Todd Showell arrived at Shelley's residence spotting a red Chevrolet GMC truck under Shelley's garage matching the vehicle description assigned for repossession. Lee reported to police that the vehicle identification number was covered with papers and it could not be verified. Because it matched and was the only one in visible sight in the driveway, Showell and Lee attempted to load the vehicle on their company tow truck.
Meanwhile, Finney reported that Denise Michelle Livingston, allegedly told Showell and Lee that they had the wrong vehicle and then went inside Shelley's residence.
"They couldn't verify the information from Mrs. Livingston," Finney said. "She went inside Shelley's home. Shelley came out a few minutes later with a loaded handgun with seven shots in it. … The tow truck decided to leave and Shelley fired three shots at them. Two hit the vehicle and one hit Showell, piercing arm and into his chest where it punctured his lung and caused him to bleed to death in the truck 150 yards away from the residence."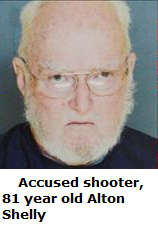 Showell was driving the tow truck, while Lee sat in the passenger in the vehicle. Livingston, who was identified by Finney as a caretaker, friend and neighbor of Shelley's, was then said to be Shelley's tenant by her public defender Jack Howle.
"(Livingston) went inside (Shelley's home) to get his keys to move the papers to get the VIN," Howle told the court Tuesday. "(Shelley) pushed by her with his gun and fired. Her sole purpose was to get his keys and show them it was the wrong vehicle."
Livingston is facing two counts of accessory before the fact, which Howle said are "erroneous" charges.
Shelley's attorney Wade Kolb painted the image of Shelly being an up-standing citizen and wheelchair-bound to the court by pointing out that Shelley has no criminal record and was married to his wife for 63 years before she died a year ago.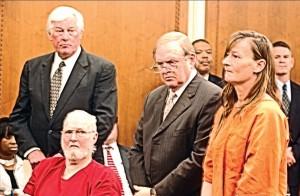 He added that Shelley has medical problems, including arthritis, that cause him to be in a wheelchair.
Shelly's attorney, Kolb presented a different story for the court aside from Finney and Howle.
"Livingston came into his home saying, 'They are stealing your car.' They had no conversation at all," Kolb said. "(Shelley) went outside and said,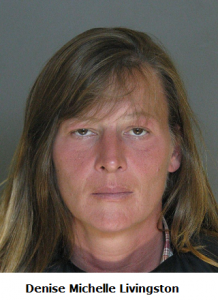 'Halt.' They didn't say anything. (Lee and Showell) then jerked the vehicle that was somewhat connected (as they tried to drive away)."
Several of Showell's family and friends were present in the courtroom Tuesday for the bond hearing. Kolb said the vehicle fell off its connection and knocked Shelley down when he then "unintentionally fired three shots."
"He was distressed and is distressed to learn that one of those bullets hit somebody," Kolb claimed.
Showell's family and friends gasped in disbelief that Shelley was knocked down and fired three rounds by mistake in the incident.
"My client owns that property and owns that truck," Kolb said as he attempted to lay blame of Showell and Lee. "… It's a tragic accident. I think you need to understand that we disagree wholeheartedly that they had a right to be where they were."
Finney stated that after Shelley fired the gun, Livingston allegedly left the crime scene and went to her rental home and got the truck that Lee and Showell intended to repossess. She drove the truck into Shelley's backyard, where Sumter County investigators found it.
Shelley had reportedly completed a concealed weapons class and had authority to have a handgun in his home.
Judge Manning denied bond Tuesday for Livingston and Shelley, requesting Shelley's medical records to obviously verify the veracity of his medical issues claims and assure the wheelchair is not merely a prop.
The case will be revisited in 90 days. In the meanwhile, Shelley and Livingston remain in custody at the Sumter-Lee Detention Center.