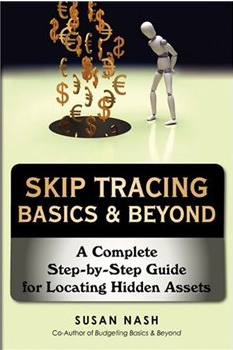 Book Review by Alex Price
Greetings from the great State of Alabama! ROLL TIDE ROLL!!
With my travels all across this nation I have a unique opportunity to work with and train people from every walk of life—from the auto finance industry, to the bail bondsman, to the recovery agent.  No matter their line of work, the most common question I am asked is: "When should we start working a skip?" How far past-due should someone be before we start skipping them?
The answer may surprise you:  "At the point of sale." Early recognition at the beginning will save you in the end.  Asking the right questions so that your file is equipped with the right information up front lays the foundation for getting what you need later on. 
A Skip-Tracer should never stop trying to learn more about their chosen craft. The minute you sit back and start thinking you know everything is when you start to slowly but surely lose touch with the industry and become ineffective.
I read and listen to everything I can on the subject from blogs to live seminars. It is rare to find a book that deals with the art of skip-tracing most books on the topic are just a large list of names addresses and phone numbers of sources of information. Now don't get me wrong I buy each and every one of those I come across as well because if I can find one source I did not have prior to the purchase my money was well spent.
Due to my travel schedule allot of my reading or education is done on my trusted and valued friend Mr. I-Pad so I am an avid member of Audible.com recently I found a new book titled "Skip-Tracing Basics & Beyond" A complete guide for locating hidden assets written by a friend of mine Susan Nash.
I found the book to be refreshing and a wealth of information was provided as it not only dealt with Skip-Tracing but also in hiding hidden assets she takes you from basic to advanced methods in a very clear and easy to understand format. I would recommend this book to anyone in the industry who wishes to increase their own knowledge base. Susan is a true professional and an asset to our industry.
For those of you who may not be familiar with Mrs. Nash below is a brief bio for your review.
BIO: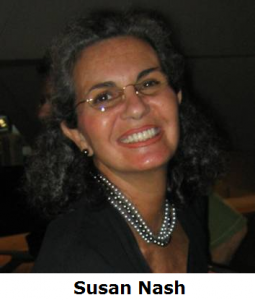 Susan Nash is president and founder of Search-Net Management Corp. which is one of the industry leaders in Asset Location. They provide litigation support, judgment debtor tracing and asset research to the collection industry and operate nationwide. Ms. Nash also is a forensic accountant and investigative consultant.  Ms. Nash regularly conducts seminars and webinars in the areas of Skip Tracing, the Internet, Fraud, Collections and Personal Growth. She is the author of several articles published in various trade publications, as well as "Budgeting Basics & Beyond: A Complete Step-by-Step Guide for Non-Financial Managers" published by Prentice Hall. In December 2008 her book "Skip Tracing Basics & Beyond: A Complete Step-by-Step Guide for Locating Hidden Assets" was published by iUniverse.com and endorsed by National Association of Retail Collection Attorney, the Debt Buyers Association and the PI Magazine. Ms. Nash holds a baccalaureate degree in Accounting from Queens College. She the President and Founder of the New York Judgment Recovery Specialists, and a member of the National Association of Investigative Specialists, the Society of Professional Investigators, the Association of Certified Fraud Examiners, the National Society of Accountants and the New York State Society of Certified Public Accountants.  
Until Next time…
Be Blessed Be Safe and Happy Hunting
Alex Price
Master Hunter
Alex Price is a nationally-recognized expert on the Art of Skip Tracing and author of Skip Tracers National Certification Program with over 25+ years of experience in skip-tracing, collections and public speaking.  Alex began his career with Barnett Bank as a field representative collecting past-due accounts. He then moved to World Omni Finance, where over the next ten years he worked in all aspects of collections and handling the nationwide charge-off skip portfolio.
Contact Info:  alex.price@masterfiles.com , Office: (972) 735-2353, Fax: (972) 735-2354