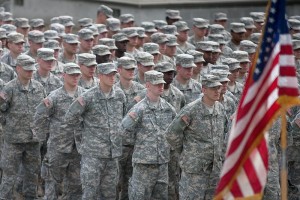 July 28, 2012 – In its second settlement in eight days, Capital One Bank will pay $12 million in restitution to troops who were unlawfully denied reprieve from high interest rates, foreclosure and car repossession while on active duty. As the result of alleged violations of the Servicemembers Civil Relief Act (SCRA), Capital One has agreed to settle on allegations it is accused of denying legal process and protections to during the period of July 15, 2006, to November 21, 2011.
The Office of the Comptroller of the Currency and the Department of Justice took action against Capital One for violations and compliance deficiencies related to the Servicemembers Civil Relief Act (SCRA).
The credit card issuer will pay $7 million to military members whose homes or motor vehicles were wrongly seized. Each service member whose home was unlawfully foreclosed will receive at least $125,000, while service members whose vehicles were unlawfully repossessed will receive at least $10,000.
An additional $5 million will be paid to military borrowers who didn't get the correct benefits from consumer loans and credit card accounts.
The allegations say that from July 15, 2006, to November 21, 2011, Capital One violated federal law by denying requests to have interest rates on car loans and credit cards reduced. Capital One allegedly foreclosed on mortgages of protected service members.
The SCRA protects servicemembers and their families from housing eviction due to nonpayment of rent that is $2,932 per month or less while on active duty. In addition, lenders are limited to charging six percent interest on credit obligations incurred prior to military service or activation, including credit card debt.
New enforcement actions will require the bank to improve their policies and procedures to ensure the SCRA benefits are calculated correctly.
Other issuers have faced similar fines due to violations of the SCRA. Last year, both Bank of America and JP Morgan Chase had to pay fines due to foreclosures on the homes of active-duty military members.
Earlier this month, Capital One reached a $210 million settlement with Consumer Financial Protection Bureau to settle allegations that it allowed its call-center contractors to pressure customers into buying consumer credit protection products such as identity theft monitoring services.