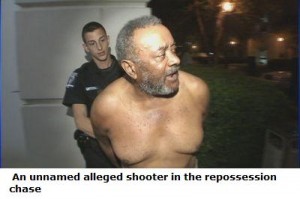 Charlotte, NC – August 9, 2012 – The alleged shooter in Thursday morning's rolling shoot out, the victim and the repossession company have been identified. As it turns out, the agent appears to have attempted to have released the vehicle in an effort to stop the chase, but to no avail, the shooter proceeded to deliver six gun shots through the cab and rear windshield the truck.
The victim and Repo Man, 40-year-old Larry Dabbs who works for Car Masters, a Gastonia-based repossession company who is a member of FLACARS, Allied Finance Adjusters and a CARS Certified Company. He and his 35-year-old girlfriend had gone to the home of 73-year-old Navoid Russell to repossess a Kia when the incident occurred at approximately 3:20am.
According to Police, when the vehicle was already loaded onto the tow truck, Russell approached the couple with a rifle and that was when the man and his girlfriend fled for their own safety.
Reportedly, Russell went inside his home, woke up his grandson, and took chase in an SUV after the tow truck.
According to a statement made by an unnamed co-worker, the victim had actually released the vehicle in an attempt to stop Russell from chasing him, but Russell continued to chase even after the vehicle came loose from the truck.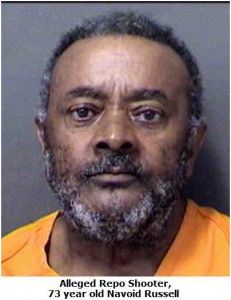 Police claim that at some point, both vehicles were stopped at a traffic light and Russell fired a .22 caliber rifle at the truck, striking the victim. The injury is stated as the shoulder but others state it was in the neck.
Police spokesman Officer Robert Fey said the man was shot in the shoulder area, adding that he was lucky to be alive. He was treated at an area hospital and released.
Russell has been charged with assault with a deadly weapon with intent to kill and discharging a weapon into an occupied property, both felonies. He was being held in jail under a $75,000 bond Thursday.
According to Police, his grandson did not shoot, and was not charged.