Detroit, MI – July 2, 2012 – When GPS led Mike Monicatti to the stolen Chevy Venture van he had been assigned to search for by a dealer who had just had it stolen the night before, he didn't expect to find what is suspected as being a chop shop run out of a residential neighborhood.
"We have one of our clients, RightWay, who is a client that has about nine dealers here in the metro Detroit area, and they called us and let us know one of their vehicles [was] reported stolen last night off their lot."
GPS in a Chevy Venture van led Monicatti right to a driveway on the 13000 block of Mansfield, where Monicatti found the Chevy Venture as well as three other cars with no plates and a flatbed tow truck filled with what he believes are stolen purses, radios and other personal property.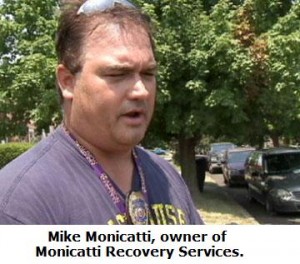 According to Monicatti, "In my opinion, this is a big chop shop for insurance theft. These customers or whoever they are make a deal with these people, who are willing to take their vehicles, and then they go ahead and make sure these vehicles are not found and then they're either, again, chopped up or they're disposed of, then the insurance companies are left holding the bill for all these,"
Police ran the ID numbers on the other vehicles and found that none of them had been reported stolen including one that was blocking in the Chevy Venture, which would indicate that it had been stolen after the Chevy.
The flatbed tow truck found at the scene had several contact numbers to an unnamed tow company, none of which were in service.