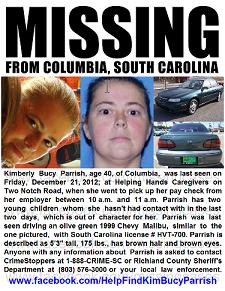 Orangeburg, SC – March 8, 2013 – Former South Carolina Repo Man Kenneth Franklin Cutter has been charged with the murder of missing 40-year-old and mother of two young children, Kimberly Parrish.
Investigators allege that Cutter had been Parrish's friend for at least four months. Investigators recovered DNA and clothing evidence that belonged to Parrish from an abandoned house near the suspect's residence.
Parrish has been missing since Dec. 21, and was last seen between 10:00 a.m. and 11:00 a.m. when she went to the Helping Hands Care Giver facility to pick up her paycheck.
Deputies say Parrish was last seen driving an olive green 1999 Chevy Malibu with South Carolina tag HVT-700.
The Malibu was later discovered in the town of North with no evidence of Parrish.
Orangeburg officials stated that, in addition to the evidence found, Cutter was witnessed driving Mrs. Parrish's vehicle, and subsequently located by officials in North.
Cutter had been employed with a South Carolina Repossession Company who wished to remain unnamed (for obvious reasons) and had ceased his employment wih the company just six weeks before the alleged murder.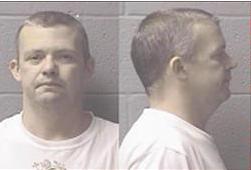 Cutter had little to say during a hearing in which he was formally presented his rights.
"All right, Mr. Cutter, you are charged … with the offense of murder," Orangeburg County Chief Magistrate Derrick Dash said. "You understand that charge?"
"Yes, sir," Cutter replied.
"Are you sure there is not a question you want to ask?" Dash said.
"Not a thing."
During his hearing, Cutter stood without any type of expression. Cutter had no legal representation for the hearing and has issued no statement.
Cutter's minimal communication in the courtroom mirrors his contact with law enforcement. He was questioned several times last week before a warrant was obtained for murder.
More than a dozen of Parrish's family members and friends were present for Monday's hearing but declined to address the court.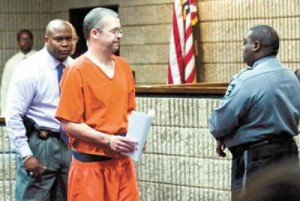 "Your honor, the victim's family are present to show the court their support for the victim," said Tom Brown, victim's advocate for the Orangeburg County Sheriff's Office.
As the hearing went on, searchers continued to look for Parrish's body. Officials said they determined the Lexington County woman was deceased based on evidence found at an abandoned Long Branch Road residence a half-mile from Wolfton.
"Several articles of clothing and substantial blood evidence, established as belonging to the victim, were found" at the abandoned house, according to the warrant against Cutter.
Authorities believe that is the house in which Parrish was killed sometime between Dec. 21 and Dec. 23. Her vehicle was found at a North Road church.
Authorities have not said whether a motive has been determined.
Orangeburg County Sheriff Leroy Ravenell said phone records led investigators to Cutter, who was contacted by Orangeburg and Richland county deputies two days after Parrish went missing.
Since Christmas Eve, searchers have been combing the heavily wooded area near Cutter's residence and the abandoned house, which sit less than a mile apart.
On Saturday, the OCSO led a massive search through rain-soaked woodlands that involved emergency crews that came from as far away as Dillon County.
More than 200 police, firefighters and volunteers were assigned areas around Wolfton during Saturday's search. Dogs were used, along with helicopters from the State Law Enforcement Division.
Even while Cutter stood before the court, county law enforcement officials and S.C. Department of Natural Resources officers were continuing that effort, scanning several ponds not far from what authorities labeled the crime scene.