Eerie, PA – July 12, 2012 – Michael J. Covatto made a living running Unicredit America Inc., the now-defunct Erie debt collector that used a fake courtroom to confront debtors and later got real judgments against them.
The Pennsylvania Attorney General's Office has secured a judgment against Covatto that will make him owe money to the state and possibly Unicredit's former debtors.
Unicredit was shut down by Erie County Judge Michael E. Dunlavey in 2010 at the request of the Attorney General's Office, has granted the office's petition to place a judgment against Covatto and Unicredit.
At a later hearing Dunlavey will determine the amount of the judgment and who would be eligible for compensation, according to an order filed Tuesday. He said the money will go to the state and to debtors affected by what Dunlavey said were Unicredit's unfair trade practices, including the use of the fake courtroom to intimidate debtors.
Dunlavey in the order also banned Covatto, who had been Unicredit's president, from "engaging in the business of debt collection and asset recovery in Pennsylvania."
As previously reported in 2010, Erie County Judge Michael Dunlavey ordered Unicredit, which was a collection agency in Northwestern Pennsylvania, also known as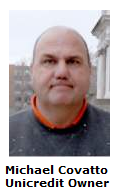 Unicredit Debt Resolution Center, to dismantle its fake courtroom that it had allegedly been using to stage mock trials and order debtors to pay under threat of arrest.
Pennsylvania Attorney General Tom Corbett reported the "courtroom" was decorated with furniture and books to give the appearance of an actual courtroom. A "judge" presided over the hearings from a raised bench, and tables were staged for attorneys and defendants. Even a witness stand was in place. The fake judge wore black in an attempt to appear to be an authoritative figure during the court proceedings. The entire operation was geared to deceive debtors and coerce repayment of debt.
No criminal charges have been filed in the Unicredit case. In September 2011, a federal magistrate judge appointed Michael Covatto an assistant federal public defender, Thomas Patton, who generally represents criminal defendants. In an April filing in the bankruptcy case, the bankruptcy trustee wrote that at the time Covatto, the debtor, filed for bankruptcy, "it appears that the debtor was being investigated for possible state and criminal violations."
When he filed for bankruptcy, Covatto valued his assets at $122,991 and listed liabilities of $272,663. Future court hearings will likely focus on whether Covatto has assets to forfeit to the Attorney General's Office and to repay debtors under the terms and amounts Dunlavey ultimately determines.