Kingman, AZ – June 26, 2012 – Apparently, entitlement has no political affiliation. A GOP delegate from Arizona has been charged with felony aggravated assault, aggravated assault on a police officer, unlawful flight and criminal damage after she threatened a Repo Man attempting to repossess her Jeep.
As one of 20 Republican Delegates, Sharon Kay Holmes, 68, who was sent to a GOP convention in Phoenix in May, has been arrested after waiving a gun during the incident. Holmes is also a 2012 candidate for precinct committee person in Kingman.
According to police, at around 7:15 p.m., a Repo Man was attempting to repossess Holmes' Jeep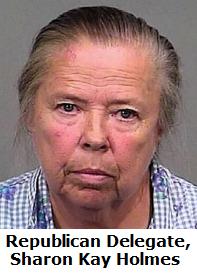 in Kingman when Holmes came rushing out of her house armed with a handgun and proceeded to point the weapon at the Repo Man while shouting expletives and threatening to shoot him. With her Jeep still attached to the tow truck, she got into it and attempted to drive off.
When officers arrived, Holmes refused to get out of the vehicle and finally managed to break her Jeep free of the tow truck almost hitting the officers in her short-lived escape attempt.
According to police, Holmes caused "substantial damage" to what used to be her car, as well as the tow truck.
Holmes then led officers on a brief chase until she was finally apprehended when her vehicle became disabled.
Holmes is being held in county jail on a $5,000 bond.