Guest Editorial
Over the years there has been talks of bringing associations together, in a united effort, to create one voice for our industry. Discussions have recently resurfaced. The creation of NARS came closest to creating this platform in bringing not only agency owners from throughout the country but various leaders in the automotive lending community as well. The only problem with NARS is that it is only available once per year and continued discussions with clients seems to die down, Till We Meet Again.
My friends, I too think that bringing the associations together and creating one voice is a great idea. That being said, I do, wholeheartedly believe that a united voice will have much more power when used constructively to professionally represent and educate our industry. In talking to several agency owners, I have been left with the impression that members of our industry see this united effort as an army of sorts that will stand the front lines of some sort of war against the clients. A magic entity that will negotiate contracts on our behalf? That is not a healthy mentality for our industry or our businesses, nor should it be the reason for its creation.
In my opinion the perfect scenario would be to not only bring the associations and their representing industry leaders together but to include representatives of the lending community. This would create an opportunity for professional discussions regarding what a lender expects and how we can fulfill that need responsibly. For many years we all spoke about educating clients to the trials and tribulations that we face as agency owners. A united group, including industry leaders from both sides, will not only have the ability to address these issues but also address the concerns and expectations of our clients.
At one point or another we all took the dive into business ownership. Part of running a business is to know how to determine the cost of doing business, understanding the needs of a particular client and knowing, without doubt, that both parties will benefit from the relationship. The biggest problems in this industry are not forwarder's, clients that demand free services or the increasing price of fuel. The problem is the many independent agency owners that are detached from the administrative duties that come with running a business. Taking the time to review, analyze and negotiate a contract is not the responsibility of the proposing client nor is it the responsibility of any association. It is our responsibility as business owners to determine if we can operate a profitable business under a particular client's terms.
One needs to use caution in declaring victory over a clients contract when they have 20 other signed client contracts that were never reviewed or analyzed sitting in a file cabinet.  Many of those that run successful agencies in our industry will be the first to tell you that they cannot work for certain clients but are still running successful companies because of their ability to professionally negotiate with other clients. They will tell you what their cost of doing business is without much thought. We need not only be true to our companies but also to our clients. You are much better off declining a contract if there is no room to negotiate rather than having your agency provide sub-standard service to your clients and hurting your reputation as a company.
No matter what industry you are in, seldom will you see a contract for service that is created by one party to benefit both equally. ALL contracts are subject to negotiation and are generally designed with this expectation. Very few times over the past 24 years have we been unable to negotiate a contract. Our agency is located just outside of New York City in what is the most expensive area of the country to run any type of business. I have had no problem in negotiating rates in our area with the majority of our clients. I don't think it has anything to do with sales techniques but rather the ability to justify our request.
This past week I attended the most professionally organized and informative conference that I have attended in 24 years. The TFA Conference was completely designed around the topic of compliance and the effects that the newly formed CFPB will have on our clients and their vendors. While we learned much from an expert attorney, Michael Dougherty, regarding the particular compliance requirements, I walked away realizing that the greatest effect posed by this new entity is the fact that clients and their vendors will need to work closer than ever in assuring that no one is cutting corners and posing a risk.
In ending, I am reminded of a quote by Henry Ford; "Coming together is a beginning; keeping together is progress; working together is success."  So, I ask that our industry reconsider the path that we are about to take and look for reasons to bring both side together for a productive outcome in establishing open discussions with our clients.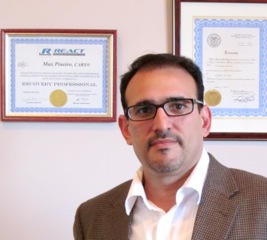 Max Pineiro