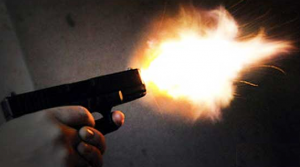 Barstow, CA – 8 December 2016 – A Repo Man was shot at when attempting to repossess a Nissan Sentra on Tuesday night. At around 10:06 p.m. Barstow police responded to the report of a shooting in the 300 block of Date Street. When they responded they learned that the victim, an employee from a repossessing company drove to the location to repossess the vehicle  While he attempted to take the vehicle, the registered owner, John Utley, 63, exited his home with a handgun and began shooting at the employee.
Several rounds were fired, some hitting the Nissan Sentra, but none hitting either of the two repossession company employees. When officers arrived they immediately located evidence of the shooting and secured the scene. The victim was able to identify the suspect as the shooter and the handgun used in the shooting was located. Utley was arrested and booked into the High Desert Detention Center for Attempted Murder and is being held in lieu of $1 million bail.
Additional evidence was collected from the vehicle.
Source: 24/7 Headline