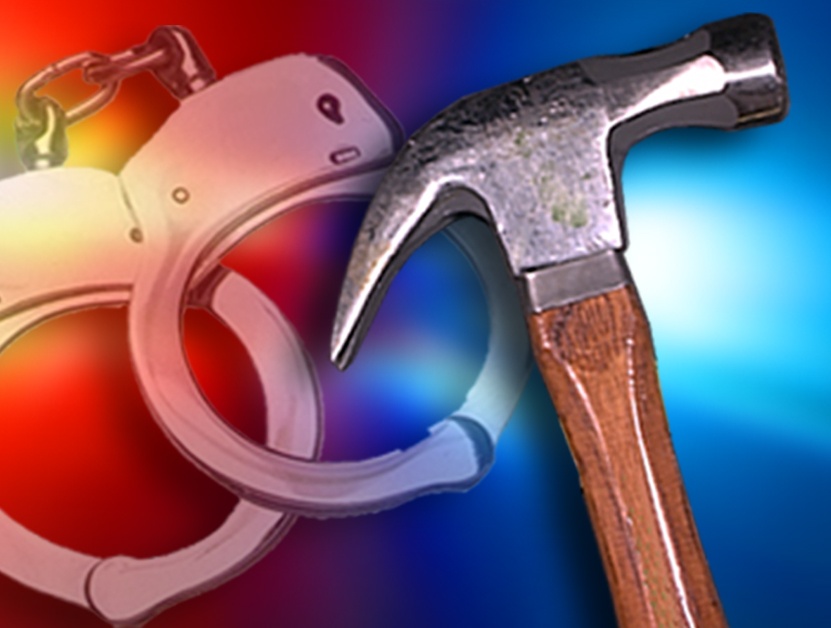 Hot Springs, AR – 27 January 2018 – A Garland County woman and man were arrested Thursday on felony and misdemeanor warrants after they allegedly tried to attack people who were repossessing a pickup truck on Sunday.
Taryn Catherine Bellucio, 35, of 805 Arkridge Circle, was taken into custody at her residence at around 10:30 a.m. and charged with aggravated assault, punishable by up to six years in prison. She was later released on $2,500 bond.
John Patrick Treasitti, 36, was also arrested Thursday on misdemeanor counts of third-degree battery and theft of property, each punishable by up to one year in jail. He was later released on $2,000 bond.
Both are set for a plea and arraignment hearing in Garland County District Court on Feb. 12.
According to the probable cause affidavit, a man and woman went to Bellucio's residence on Sunday to repossess a 2005 Dodge Ram from Treasitti.
After they were unsuccessful at starting the truck with a spare key, the woman contacted A&A Transport to tow it. The wrecker driver was loading the truck when Treasitti reportedly came outside and was told the vehicle was being repossessed. He allegedly became upset and began to retrieve his belongings from the truck.
Treasitti reportedly went to his home and came back with Bellucio, who was allegedly carrying a screwdriver. Bellucio reportedly jumped into the driver's seat of the vehicle while the wrecker driver was continuing to load it onto the wrecker.
The wrecker driver allegedly saw Treasitti coming toward him with a hammer and exited his vehicle, fearing that Treasitti intended to damage both vehicles or himself, and a struggle reportedly ensued.
The driver reportedly pinned Treasitti to the tailgate of the Dodge Ram and the male who was there to repossess the truck attempted to grab the hammer from Treasitti's hand. At that point, Bellucio allegedly attempted to stab him with the screwdriver.
During the struggle, Treasitti allegedly held the man's neck, but he managed to get the hammer and kick Bellucio to avoid being stabbed with the screwdriver.
Treasitti reportedly said he was done fighting, but proceeded to kick the man off the wrecker to the ground. Once on the ground, Treasitti allegedly tried to take a cellphone that had allegedly fallen out of the man's pocket.
The incident was recorded by the female who was there to repossess the truck, and another video was taken by a neighbor and both recordings were retrieved by Garland County sheriff's investigators who later obtained warrants for Bellucio and Treasitti.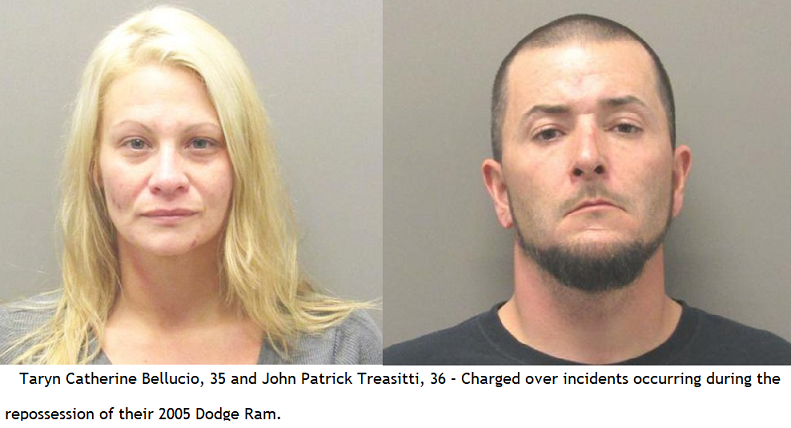 Source: The Sentinel Record